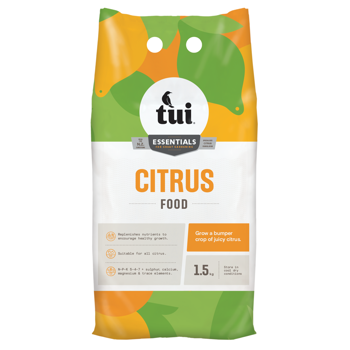 Tui Citrus Food
Citrus trees laden with juicy lemons, oranges, limes and mandarins ready to be plucked from the branch are a quintessentially Kiwi addition to many home gardens.
Tui Citrus Food is a blend of nutrients formulated to encourage healthy green foliage and large tasty fruit, and includes high levels of potassium - essential for flower and fruit production. Tui Citrus Food also contains magnesium to help prevent leaf yellowing, a common problem with citrus trees.
Use in your garden beds, and you'll be harvesting a bumper crop of juicy homegrown citrus this season.
Benefits
Replenishes nutrients to encourage healthy growth.
Suitable for all citrus.
N-P-K 5-4-7 + sulphur, calcium, magnesium & trace elements.
Directions for use
When planting
When planting apply 150g (approx. 1/2 cup) per square metre of garden.
Mix thoroughly into the soil and plant as per label instructions.
Water in well after application.
Established plants
Apply 300g (approx. 1 cup) per square metre of garden around the plant's dripline (the dripline is where the plant's foliage extends to).
Water in well after application, taking care to wash any product off the plant foliage.
Not recommended for use in pots and containers.
Use during spring and summer on all types of citrus for a bumper crop of homegrown fruit.
Tui Citrus Food reviews
Be the first to write a review