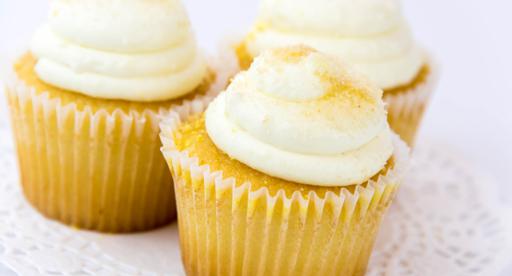 Cupcakes are the perfect excuse for a touch of prettiness. There are mountains of beautiful cases available, and what better time to practice your icing skills? The icing, or in this case frosting, is as important as the cupcake itself.
Ingredients
1/2 cup (110g) sugar
1 egg
1/2 cup (125ml) oil
1/4 teaspoon salt
1/2 cup natural yoghurt
finely grated rind of 1 lemon
1 tablespoon lemon juice
1 cup (150g) self-raising flour
Frosting
2 cups (250g) icing sugar
75g butter
1 tablespoon milk
1/2 teaspoon vanilla extract
Preheat the oven to 180°C.
Place 12 paper cases in a muffin tin or grease the muffin tin with oil.
Beat sugar and egg until pale and creamy. Mix in oil, salt, yoghurt, and lemon rind and juice.
Gently fold in flour, then spoon mixture into cupcake cases or muffin cups.
Bake for 15 minutes until golden and springy to touch. Cool on a wire rack.
To make the frosting, beat icing sugar and butter in a bowl for 5 minutes - this is easiest in an electric mixer with a whisk attachment. Add the milk and vanilla extract and continue to whip until the mixture is light and fluffy.
Pipe frosting onto cooled cupcakes.
Recipe courtesy of Helen Jackson's Kitchen