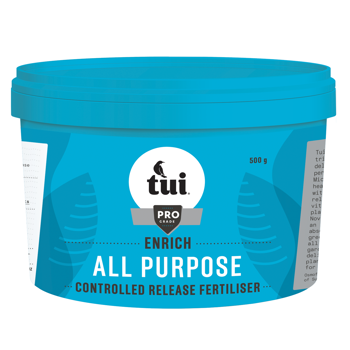 Tui Enrich All Purpose Controlled Release Fertiliser
Tui Enrich is a premium triple action system to deliver exceptional plant performance. Osmoforte® Microbial Technology creates healthy soil, and is paired with a premium controlled release fertiliser to provide vital nutrients to nourish plants.
The inclusion of NovaTec® fertiliser provides an instant boost of easy to absorb nitrogen for healthy green growth. Developed for all plants and areas of your garden, this formulation delivers nutrients to your plants as they require them, for up to six months.
N-P-K 15.1-3.2-11.2 + trace elements.
Benefits
Provides six month controlled release feeding.
Triple action - triple action technology feeds both your soil & plants.
Includes NovaTec® fertiliser for an instant boost of easy to absorb nitrogen.
Multi-use - suitable for use in gardens, pots and containers.
Developed for all plant types.
Directions for use
Garden beds
New planting: apply 60g (two scoops) per square metre. Mix thoroughly into the soil.
Established plants: apply 90g (three scoops) per square metre around the plant's dripline (the dripline is where the plant's foliage extends to).
Water in well after application.
Pots & Containers
Apply at the rates below:


15cm pot: 7.5g
20cm pot: 15g
30cm pot: 30g

Spread evenly over the soil avoiding the plant stem.
Water in well after application.
Apply every six months, for best results apply in early spring and late summer.
Tui Enrich All Purpose Controlled Release Fertiliser reviews
I used this fertiliser on my 6yr old fig "twigs" and a year later I have an actual fig tree and it fruited for the first time last season. So pleased with this I now use it on my passionfruit. Let's see what happens this season.

J Austin