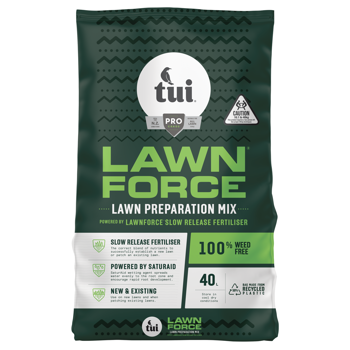 Tui LawnForce® Lawn Preparation Mix
There is nothing quite like wandering barefoot across your backyard savouring the feeling of grass between your toes. Tui LawnForce® Lawn Preparation Mix is a 100% weed free premium blend of high quality fine bark and clean graded sand. The addition of Tui LawnForce® New Lawns Slow Release Lawn Fertiliser promotes fast germination of lawn seed and sustained growth to encourage a lush lawn.
Use Tui LawnForce® Lawn Preparation Mix for your lawn and you'll be enjoying the feeling of healthy green grass in no time.
This bag is recyclable through the soft plastics recycling scheme, it just needs to be clean and dry. Learn how to clean and dry your Tui growing media bags here.
Benefits
The correct blend of nutrients to successfully establish a new lawn or patch an existing lawn.

SaturAid wetting agent spreads water evenly to the root zone to encourage rapid root development.

Use on new lawns and when patching existing lawns.

Packaging made from 50% recycled plastic.

100% weed free. 
Directions for use
Directions for new and established lawns:
When starting a new lawn from scratch, spray the area to kill any existing grass and weeds. When patching an established lawn, spray weeds and any grass you want to remove.

Clear away weeds and grass once it has browned off.

Apply a layer of 25–30mm of Tui LawnForce® Lawn Preparation Mix to the area.

Create a level and compact area for your lawn by raking, rolling and filling in where needed.

Water before sowing lawn seed.

Sow seed on a fine day at the rate set out on the packaging.

Scatter seed in an east to west direction and a north to south direction to ensure an even spread.

Rake in lightly to ensure seed is covered.

Water lightly and keep moist on a daily basis while the lawn seed germinates.
Spring and autumn are the best times to sow a new lawn.
One 40L bag of Tui LawnForce® Lawn Preparation Mix will cover approximately 1.5-2 square metres at a depth of 25-30mm.
Tui LawnForce® Lawn Preparation Mix reviews
Great advice. Thank you!

John van der Burgh