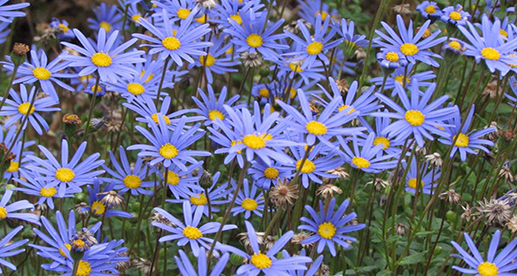 Daisies come in all shapes and sizes with the most common being the Marguerite and Shasta Daisies. These cheerful looking perennials reward you with blooms for months on end. A broad spectrum of colours are available, from clean whites and creams through to yellow and pink tones, into red, burgundy and lilac shades. In a vase a bunch of Marguerite Daisies appeals to many, they liven and brighten any room and last for days. They can be a cheerful addition to any flower garden, producing gorgeous blooms year after year.
3 steps to planting dasies 
prepare
Daisies require full sun, fertile well-drained soil and protection from heavy frosts. In cooler areas of the country they can be treated as annuals as they don't survive long periods of cold frosty weather. In cold areas don't plant out until after the last frosts or consider planting them in pots for all-year-round colour. Plants are widely available in Garden Centres from early spring.
Some favourite varieties to look out for are Annabel, Crazy Daisy Pink, Crazy Daisy Yellow, Double White, Hot Lips, Juliana, Primrose, Saffron, Summer Angel and Sunrise Rose.
Like building a house a good foundation is the key to success in your garden. The better the soil, the better your plants will grow. If you are starting with an existing garden bed dig in organic matter like Tui Sheep Pellets and Tui Compost to your soil. Then you can add a layer of Tui Flower Mix.
plant 
The best times to plant are early in the morning or late in the day, so the plants aren't exposed to the hot sun straight away. Always water plants well before and after planting.
Directions for planting in garden beds
Water plants thoroughly before planting and allow to drain.

Dig a hole, approximately twice the depth and width of the root ball of your plant.

Gently loosen the root ball of your plant and position the plant in the centre of the hole.

Fill in with Tui Flower Mix.

Press soil gently around the base of the plant.

Water your plant well and continue to water regularly.
Directions for potting plants
Water plants thoroughly before potting and allow to drain.

Half fill your container with Tui Flower Mix.

Gently take the plant from the current container, loosen the root ball and remove any loose or dead plant material and roots.

Position the plant in the centre of the new container and fill with Tui Flower Mix up to 3cm from the top.

Gently firm mix around the base of the plant. The mix should be at the same level on the plant as it was in the previous container.

Water your plant well and continue to water regularly.
nourish 
Feed your plants and they will reward you. Replenishing the nutrients used by your plants ensures your plants grow to their full potential. Fertilise your Daisies with Tui General Fertiliser throughout the growing season in mid-spring, summer and early autumn.
A well-watered, well-nourished garden will have a better chance of keeping insect pests and diseases at bay. While your Daisies are growing regularly apply a dose of Tui Organic Seaweed Plant Tonic to give them a welcome boost.
Trim to shape after flowering or as required.
A wonderful cut flower, often used in posies or just in a vase on its own.