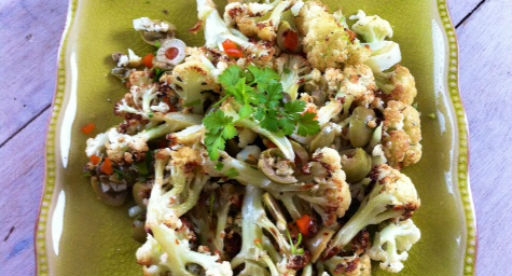 This simple salad is a nice change from the traditional cauliflower-cheese or boiled cauliflower, packing loads of flavour!
Ingredients:
1 cauliflower
4 tbsp olive oil
2 cloves of garlic finely chopped
15-20 olives, pitted and chopped
Lemon juice of 1 lemon
Zest of 1/2 a lemon
1 fresh chilli finely chopped
1/2 C walnuts chopped
1/4 C flat leaf parsley chopped
Preheat oven on bake, to 180 degrees celsius.
Cut cauliflower into florets.
Toss florets with 2 tbsp olive oil and the garlic until coated.
Place baking paper on a baking tray and spread florets out in an even layer.
Roast for 20 minutes (or until tender), turning every 10 minutes to get even caramelisation.
Remove from oven and place in a bowl.
Toss with remaining olive oil, olives, lemon juice and zest, chilli, walnuts and parsley.