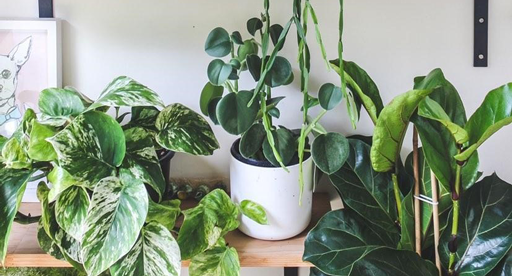 Indoor plants are the perfect option for breathing life into your living space and livening up and enhancing your décor. Just like plants growing outdoors, indoor plants also need regular TLC. See our tips below for keeping your indoor plants in top shape.

Container plants should be regularly re-potted into containers of fresh potting mix. Large indoor houseplants don't need repotting as regularly as smaller indoor houseplants as long as they are fertilised regularly.
A plant will grow as big as the pot you put it in so if you want the plant to grow bigger, repot it every 1-2 years. July-August is generally a good time.
Caring for your indoor plants
Light: The more light the plants get the better. Place on a window sill, bench or table where possible to allow light to access your plants.
Observation: Observation is important - it is a good idea to look over your plants every couple of weeks and check for any issues. To help you remember when you last checked over your plants, try marking it on the calendar.
Grooming: Keep your plants looking great by grooming. As the leaves are the main part of the plant visible take time to keep them looking in tip top shape.
Dust particles can cling to plant leaves and block the leaf pores. Every now and again spray a fine mist of tepid water over the leaves to unclog the pores and gently wipe with a soft cloth.
Alternatively place the plant outside in gentle rain (this is a ideal for plants with smaller leaves that are harder to clean), gently hose down plants with the hose, or place the plant in the shower and then allow to dry.
Furry and hairy plants, cactus and succulents prefer less water - use a soft brush to brush dust off the leaves.
Professional leaf sprays and wipes are available to help clean and add shine to plant leaves.
Tidy up plants by deadheading flowers once they have finished.
Remove old or unhealthy looking leaves and check for any signs of insect pests and diseases in case they are the reason behind the leaves.
Prune plants if they are losing form or shape and just looking generally untidy. Pruning will help keep the plant more balanced with strong growth.
Watering: Plants grown in containers require more regular watering in summer and less frequent watering in winter. If you're not sure whether to water your plant, touch the surface of the mix and if it feels dry, water. 
Feeding: Plants use nutrients from the soil as they grow, so replenishing the nutrients ensures your plants remain healthy. Choose a ready to use liquid option from the Tui Enrich Pour & Feed range or a six month controlled release fertiliser like Tui Enrich Pots & Containers. They require less feeding over winter, so it's a good idea to give them a boost pre-winter and they'll welcome a top up when spring arrives.
Directions for re-potting plants:
Your new container should be approximately 25mm wider than the root ball of the plant.
Water plants thoroughly before re-potting and allow to drain.
Partly fill your container with Tui Indoor Plant Mix.
Turn the plant out of its current container and loosen the root ball gently, removing any loose roots or plant material.
Position the plant in the centre of the new container.
Fill your container with Tui Indoor Plant Mix up to 3cm from the top.
The soil should be at the same level on the plant as it was in the previous container.
Press soil gently around base of plant.
Water your plant well.
Keep moist until the plant is established.