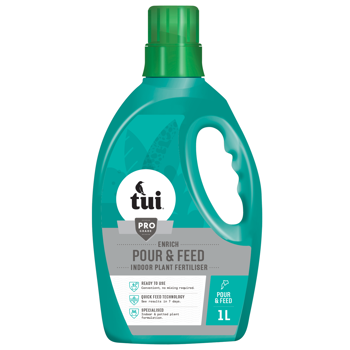 Tui Enrich Pour & Feed Indoor Plant Fertiliser
Tui Enrich Pour & Feed Indoor Plant fertiliser is a premium formulation designed with vital nutrients to promote healthy green plant growth.
Developed for Ferns, Ficus (including Fiddle Leaf Fig), Devil's Ivy, Dracaena, Peace Lilies, Palms and Peperomia.
Benefits
Ready to use - convenient, no mixing required.
Quick feed technology - see results in 7 days.
Specialised - indoor & potted plant formulation.
Directions for use
No mixing required.
Measure the required amount using the cap and the table on the label.
Pour onto moist soil, around your plant.
Continue to water as needed.
Apply at the rates below:
9cm pot: 1/2 Cap
12cm pot: 1 Cap
20cm+ pot: 2 Caps
Pro rata quantity for other pot sizes.
Tui Enrich Pour & Feed Indoor Plant Fertiliser reviews
Be the first to write a review