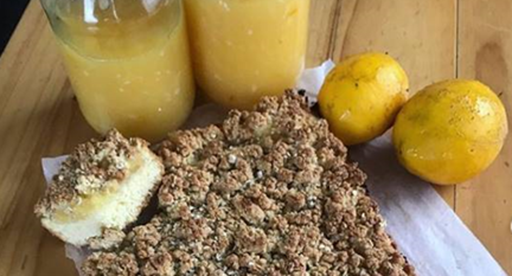 Got loads of lemons? This delicious lemon shortcake recipe shared by Tracey is the perfect way to make use of your lemon crop! Eat it warm straight from the oven with ice cream or yoghurt, or cut it into squares for an easy treat later on.
INGREDIENTS
Shortcake base and topping:
1 cup self raising flour
1 cup plain flour
1/2 cup of sugar
100 grams of cold butter
1 large egg
2T milk
Lemon honey filling:
75 grams butter
3/4 cup sugar
2t lemon rind
1/3 cup lemon juice
2 large eggs beaten
method 
Pre-heat the oven to 180 degrees.
In a food processor blend the plain flour, self raising flour, sugar and butter until it forms a crumbly mixture. Add the egg and milk and blend together.
Once blended together, press half of the shortcake mixture into the bottom of a lined oven tin. Put aside the other half. 
In a pot over a medium heat, add the butter, sugar, lemon juice and lemon rind and stir to mix, gradually adding the beaten eggs.
Cook the mixture for 3-5 minutes, stirring every minute until it thickens.
Pour the lemon honey mixture over the shortcake base.
Crumble the other half of the shortcake mixture over top of the lemon honey, so that the lemon honey is completely covered.
Bake in the oven for 35 minutes.
For more garden and recipe inspiration follow Tracey on Instagram: @traceyrobertsgardensnz