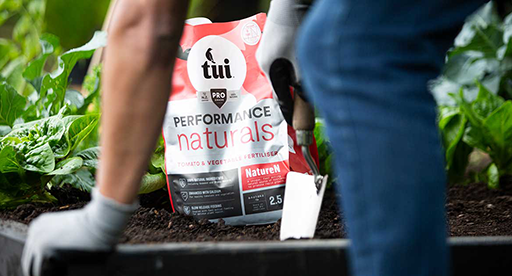 Autumn is

 a major harvesting period for both fruit and veges! T

he garden will be full of delicious crops to enjoy and 

it's the perfect time to plant more for continuous harvests over the cooler months. 
Feed your autumn garden with Tui Performance Naturals to keep it thriving throughout the season.
Autumn is an ideal time to plant veges like broccoli, cauliflower, cabbage, beetroot, spinach, chinese cabbages, bok choi and leafy greens. If you plant lettuce in early autumn you can get a good harvest from most lettuce varieties. It's also time to think about those winter crops and sow seeds for carrots, swedes, turnips and radish. 
Feeding at the time of planting
Give your new autumn crops the best start by digging some Tui Performance Naturals Fertiliser pellets into the soil at the time of planting.
This 100% natural pellet 

stimulates root development and helps improves overall plant health. It contains the all important sheep poo to encourage earthworms and nourish your plants.

Tui Performance Naturals fertiliser pellets will provide a slow release feed for up to three months and are safe to use in pots and containers as well as garden beds.
feeding existing crops 
Give your existing veges a boost to keep them thriving and continuously producing with Tui Performance Naturals Liquid Fertilisers.
Containing 100% natural ingredients including seaweed 

for healthy plant and root growth. Seaweed also helps to make plants more resilient to temperature extremes and diseases.

Tui Performance Naturals Liquid Fertilisers provide a fast action feed and can be applied to crops every two weeks to keep them growing and healthy. 
Read our Autumn Garden Guide
When should I plant
in
Jan
Feb
Mar
Apr
May
Jun
Jul
Aug
Sep
Oct
Nov
Dec
Harvest in

60-120

Days