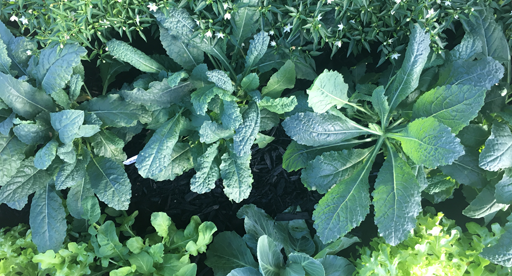 We are now in the last month of autumn and there is plenty to keep busy in the garden. In the fruit garden, the harvest period is coming to a close for pip and stone fruit and is just beginning for feijoas.
It's also the last chance to get your bulbs in the flower garden before winter, and a great time to plant new winter veges in the vege patch!
What to plant in May
In the vegetable garden
Plant
Dig in Tui Compost and Tui Organic Sheep Pellets before planting to replenish nutrients used by the heavy summer growing season.
This month you can plant the following: beetroot, bok choi, broad beans, broccoli, cabbage, cauliflower, cavolo nero, celery, coriander, garlic, kale, mesclun, onion, parsley, peas, radish, rhubarb, rocket, rosemary, sage, silverbeet, spinach, thyme.
For more veges to plant in your region, check out our Planting Calendar here
Harvest
It's time to harvest the last of your summer and autumn crops including beetroot, bok choi, broccoli, capsicums, carrots, courgettes, cucumber, kale, leeks, spring onions, sweetcorn.
Check out our recipe section for tasty recipes for your harvests.
Maintenance
Pumpkins - pick pumpkins in areas where you want to get rid of vines, as they can take up a lot of room. Cut the stalk from the vine, leaving the handle-type stem on the pumpkin. Store somewhere dry off the ground.
Herbs - protect tender herbs like basil from the cold to prolong the harvest - cover with frost cloth or something similar in the evenings.
Lay Tui Quash to control slugs and snails eating your seedlings.
Feed herbs and winter greens once a month with Tui Organic Seaweed Plant Tonic.
In the fruit garden
Pick feijoa, quince, apple, pear, rhubarb, passionfruit.
Harvest nuts: almond, chestnut, hazelnut and walnut.
Plant evergreen, frost-hardy fruits such as feijoa and Chilean guava. See the Tui Feijoa Growing Guide for more information. Remember fruit requires a position in full sun. Shelter from prevailing winds is preferable.
Start preparing strawberry beds for planting in June and July. Trim back the older leaves on existing plants and remove runners.

Once removed, plant into a coir pellet or into some potting mix to grow the roots and then plant into your garden once roots are established.

Collect and compost any rotting fruit from under fruit trees.
Aphids, whitefly and scale insects may be about, blast off with a hose, apply warm soapy water or select a suitable spray at your garden centre.
In the flower garden
Mother's Day is one of the highlights of May. Giving and receiving plants and flowers is a wonderful way to acknowledge someone special.
Last opportunity to plant spring bulbs before the soils get too cold.
Pick Leucadendron, flowering kale, dianthus, roses, Peruvian lily, poppies, Marguerite daisy, statice, Japanese anemones, Erica.
Apply Tui Bulb Food to bulbs already in the ground.
Apply a side dressing of Tui NovaTec Premium fertiliser to shrub borders and flower gardens.
For a pop of colour plant cyclamen, bellis, calendula, polyanthus, flowering kale, primula, pansies, violas, poppies, snapdragons, wildflowers, cineraria, winter roses – Hellebores, Leucadendron.
Prune summer flowering shrubs and trees that have finished flowering.
Save and dry seeds of summer flowers for sowing in the spring.
Add thick layers of Tui Mulch & Feed or Tui Pea Straw Mulch to garden beds and pots to conserve water, reduce weeds and add valuable nutrients back to the soil.
When should I plant
in
Jan
Feb
Mar
Apr
May
Jun
Jul
Aug
Sep
Oct
Nov
Dec
Harvest in

170

days