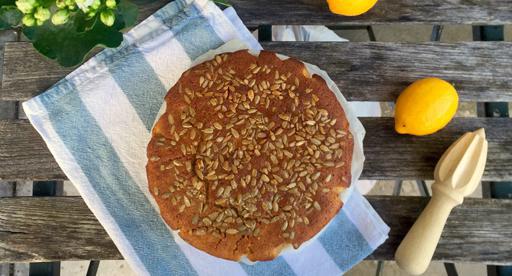 This wonderful cake has a very light moist texture, and literally melts in your mouth. The secret here is a bit of cornflour - combined with any other flour it makes it exceptionally light and soft. This cake is gluten free too! Thank you to Nadia for sharing this delightful recipe.
Ingredients
2 lemons - zest and juice
1 cup brown rice flour
1/2 cup corn flour
1 cup coconut sugar
2 eggs
120 g butter - melted
3/4 cup coconut cream
1 tsp baking powder, 1/2 tsp baking soda
1 tsp organic vanilla extract
a pinch of salt
1/4 cup sunflower seeds
3 tbsp raw bush honey *Or substitute for normal honey
Grate the lemons using a citrus zester, then cut them in halves, remove the seeds and squeeze the juice in a glass or a small bowl.
In a large bowl combine brown rice flour, corn flour and coconut sugar. Once it is well mixed, set it aside for a while.
Beat the eggs well, gradually adding a pinch of salt, vanilla, cream and melted butter.
Combine it with the dry ingredients and mix until it is smooth.
Now add baking powder, baking soda, lemon juice and zest into the mixture, mix well and put the batter into a baking form.
Sprinkle sunflower seeds on top and put into the oven.
Bake for about 35 minutes at 165C until the cake is golden, and the skewer comes out dry.
Take it out and brush the top of the cake with honey, now you can return it to the oven for a few more minutes. The honey will melt and most of it will get absorbed by the cake. After several minutes take it out of the oven and allow it to cool completely before taking it out of the form and slicing it, otherwise it might fall apart into crumbly pieces. It will taste just as great, though, so if you cannot wait or do not care much about the aesthetics, enjoy it right away!