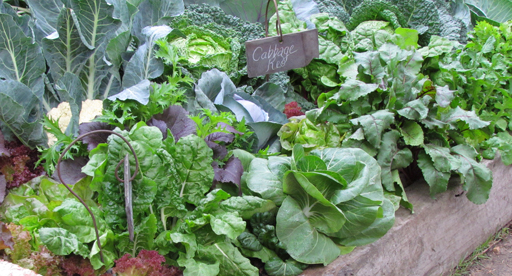 October signals mid-spring and there is plenty to do in the garden.
Spring crops and flowers will be starting to appear so it's time to plant more to ensure a continuous supply of delicious veges, juicy fruit and fragrant floral displays that will last you into the summer months!
What to plant in October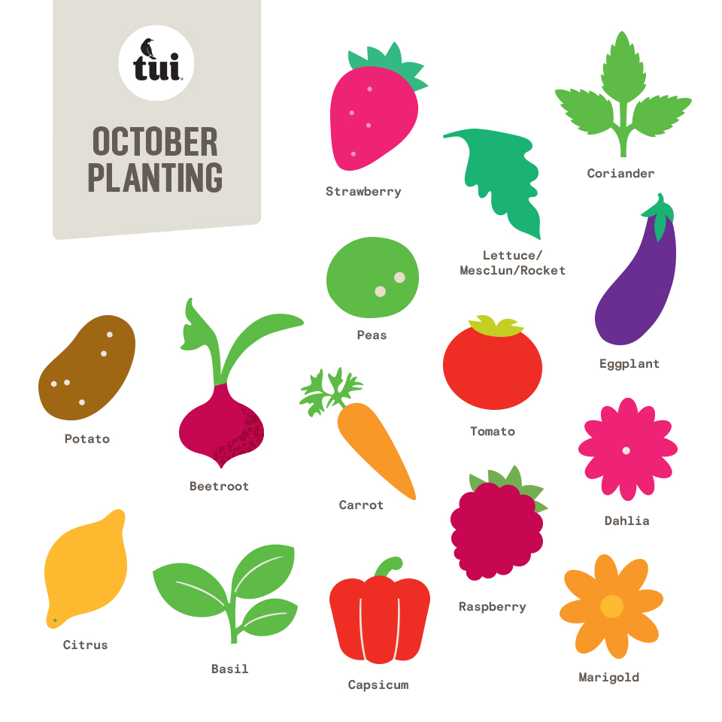 Find out what else to plant in your region with our planting calendar here 
In the vegetable garden
Keep filling your patch with delicious spring veges. Popular spring crops to plant include: peas, beans, potatoes, carrots, cabbage, courgettes, broccoli, cauliflower, beetroot, leeks, and salad greens including rocket, spinach, mizuna, mesclun and lettuce. Towards the end of the month, as the weather warms, cucumbers, chillies and capsicums can also be planted.
Herbs - plant basil, chervil, coriander, dill and tarragon in areas where frost has finished. Cut back sage, thyme and mint to encourage fresh new growth for the summer harvest.
If you have already planted potatoes and are counting down to a new potatoes for Christmas, continue mounding with Tui Vegetable Mix as shoots grow, until they are approximately 300mm tall. This protects them from wind and frost, prevents light reaching tubers and turning them green, and encourages tuber development.
Labour weekend is traditional planting time for tomatoes - get yours in for a bumper crop of flavoursome tomatoes in summer!
Feed your crops with Tui Performance Naturals Tomato & Vegetable fertiliser enhanced with potassium for healthy tomatoes and vegetables. Apply Tui Organic Seaweed Plant Tonic once a month between fertiliser feedings to give plants a boost and kick-start for the season.
Slugs and snails will be looking for food, and they will love your leafy spring salad greens and brassicas. Apply Tui Quash slug & snail control to help stop them munching on your seedlings. Look out for aphids and white cabbage butterfly caterpillar as they will also be actively looking for food.
In the fruit garden
Keep planting a variety of berries for summer snacking and desserts. Plant in Tui Strawberry Mix.
Plant up pots with citrus to enjoy trees laden with juicy lemons, oranges, limes and mandarins ready to be plucked from the branch.
Fruits require a position in full sun. Shelter from prevailing winds is preferable. Stake all young fruit trees to enable to roots to anchor themselves into the soil for the first few seasons.
Strawberries may be ripening in the very warmest and sheltered of areas.
Fertilise citrus planted in the garden with Tui Citrus Food around the drip line.
Add a layer of mulch around the base of fruit trees, to help retain moisture over the warmer months.
Fertilise fruit trees with Tui NovaTec Premium fertiliser.
In the flower garden
Try growing a few different things this season - plant vibrant blooms in the vege patch to brighten things up. Flowers in the vege garden also encourage bees, helping pollinate vegetables like tomatoes and beans!
Popular spring flowers include lobelia, dahlia, cosmos, gerbera, marigolds, petunia and sweet pea.
Pick iris, wisteria, delphiniums, Queen Annes Lace, stock, snapdragons, lavender, chrysanthemum, gerbera, sweet pea, roses, poppies, freesias.
Plant up pots and containers with new seasons bedding and perennial plants, remember to lay Tui Quash slug & snail control around container plantings too - slugs and snails don't just attack plants in the garden. Choose larger rather than smaller containers to allow plenty of room for the roots to develop. Plant flowers in Tui Flower Mix potting mix and shrubs into Tui Pot Power for the best results.
An application of Tui Organic Seaweed Plant Tonic every 2-4 weeks will keep your flowers thriving.
Apply Tui Bulb Food to spring bulbs as they finish flowering to ensure best flowering for next year.
Prune back camellias, magnolias and azaleas as soon as they finish flowering to encourage new growth for next season's flowers.
When should I plant
in
Jan
Feb
Mar
Apr
May
Jun
Jul
Aug
Sep
Oct
Nov
Dec
Harvest in

60-85

days