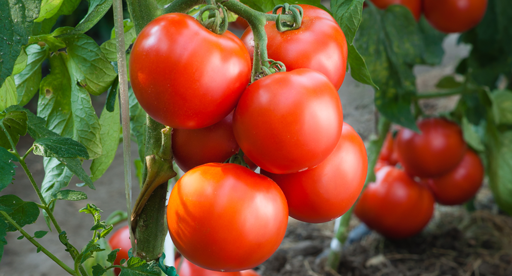 Harvesting fresh homegrown tomatoes is a joy many gardeners look forward to every year. Store bought tomatoes just never taste as good as something fully ripened and grown with love in the sun at home!
For the start of the tomato growing season we've put together top tips to help you enjoy a a bumper crop of tasty homegrown tomatoes this summer.
When should I plant
in
Jan
Feb
Mar
Apr
May
Jun
Jul
Aug
Sep
Oct
Nov
Dec
Harvest in

60-85

days
PLANT
It's best practice not to plant your tomatoes in the same spot as last season, or in the same spot as potatoes were planted as diseases can remain in the soil and affect your new crop.
Plant in a sunny spot as tomatoes need sun to ripen.
Prepare the ground before planting by digging in organic matter like Tui Compost and sheep pellets to your soil. This will ensure your plants get off to the best possible start!
Place stakes in the soil for each tomato plant before planting to provide support and avoid damaging the roots later on.
Plant with Tui Tomato Mix, specifically formulated with extra potassium to encourage a plentiful harvest of big juicy fruit.
Tomatoes germinate readily from seeds, sow seeds in trays of Tui Seed Raising Mix in spring, water and keep soil moist. Seedlings will appear within a few weeks.
Even if you have a tiny balcony, it's easy to grow a tomato plant in a pot or hanging basket. Just make sure it's in a sunny spot and kept well watered and fed.
NOURISH
Feed tomato plants planted in the garden with Tui Tomato Food every four weeks to replenish nutrients used, and to enhance flavour and ripening. Use Tui Enrich Vege, Tomato & Herb controlled release fertiliser for tomatoes planted in pots and containers.
Water regularly, a deep soaking two or three times a week. Irregular watering can lead to blossom end rot, and if plants dry out they are more susceptible to pests and diseases. For more information on blossom end rot and how to prevent it click here >
Avoid watering the foliage as this can cause fungal disease.
The best times to water are in the morning or evening rather than in the heat of the day. 
Apply Tui Organic Seaweed Plant Tonic regularly for plant health and to help plants handle fluctuations in temperature.
HARVEST
Allow fruit to ripen on the plant. Although tomatoes do ripen further once picked, the flavour is always at its best when allowed to ripen fully on the plant.
Store tomatoes at room temperature as they lose their sweetness when chilled.
If summer temperatures have been slow to warm up, tomatoes can take longer to ripen. With sun, warmth and water they will ripen eventually. 
MAINTENANCE

Basil makes a great companion plant for tomatoes, repelling diseases and improving growth and flavour. Borage, chives, mint and parsley are also great companion herbs for tomatoes. Carrots, beans, marigolds, cucumber, cosmos, lettuce and peas are other good companions.
As your tomatoes grow, remove the laterals to encourage bigger and better fruit. Laterals are the shoots that grow out from the side of the stem.
Halfway through the growing season prune the base leaves to let sun and light in to improve air circulation to help prevent fungal disease like blight.
Cover plants with netting to prevent birds stealing your ripening tomatoes!