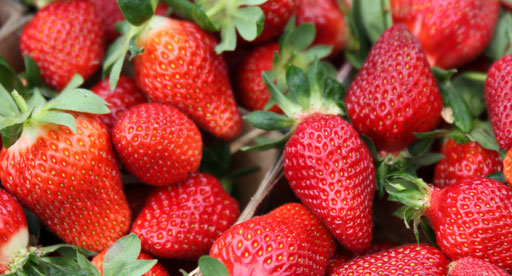 The great Kiwi pavlova just wouldn't be the same without a generous topping of delicious red strawberries. Now is the perfect time to plant your strawberries for a bumper crop this summer! We asked our Facebook fans for their top strawberry tips. Share yours below in the comments section.

Plant

Grow them in a bag of Tui Strawberry Mix if you don't have enough room in your garden. They grow a treat. Also being in these bags, means you can also move them around your section - Wendy
I always put sheep pellets around my strawberry plants they seem to thrive on this and we get nice big juicy strawberries, my 3yr old granddaughter loves them - Tracy
We have planted strawberries in an old bath, heaped them up with compost and then surrounded them with straw. Last season was the first time using the straw and it was the biggest crop of strawberries we've had, will be repeating this season - Joanne
I have learnt to plant my strawberries up high enough for the dog not to jump up and steal them, getting very creative at times! Hanging them in PVC piping from the top of the deck works the best - Lynley
I am planting last year's runners that I saved now, to replenish and enlarge my strawberry patch - Chantel
Plant them in plastic guttering - Sharon
Plant approximately 3-5 strawberry plants every couple of weeks or so, then you'll have a continuous amount of strawberries for the Christmas/summer season. Don't forget to cover them with light netting to stop the birds from stealing them! - Karen
Dig in compost and Tui Strawberry Food before planting - Patricia
Plant at least five per person (more if you have little ones who love being outside in the garden and will eat as the play), water water water, and feed feed feed. The more you love strawberries the bigger and juicer they are - Bronny
I grow mine in a tower planter, they grow great and the strawberries ripen quickly. Slugs dont get them either! - Trethewey
Pick a spot in full sun for the sweetest strawberries - Bronwyn
Never plant too many plants in a planter. Overcrowding makes them prone to disease. I prepare the soil with compost and plant the new plants in sept. I sprinkle Tui Strawberry Food around the plants. I have the plants on a watering system so they are never stressed. Makes for big, sweet, healthy strawberries - Daphne
Nourish

Give the strawberries food and plenty of water! - Jenny
Pine needles make strawberries twice as big - Annette
Give them in as much sunshine as you possibly can - Donna
Spray with water to get them to bud - Michelle
Strawberries should be fertilised once a month, using a well balanced fertiliser - Mana
Protect
Protect the fruit from birds and little fingers with netting - Emma
Put egg shells around your strawberries the shells are too sharp for the bugs to get near them! - Leanne
Put pea straw around them to keep the fruit from going rotten lying on the dirt. Plenty of fertiliser, water and TLC. Bird proof them or they will beat you to them - Colleen
Paint stones to look like strawberries - one peck of those and the birds will learn to leave the real ones alone! - Kelly
I started to grow them in the greenhouse away from birds and slugs - Heena
And this one from Lynda - eat as soon as ripe!
When should I plant
in
Jan
Feb
Mar
Apr
May
Jun
Jul
Aug
Sep
Oct
Nov
Dec
Harvest in

140-160

days