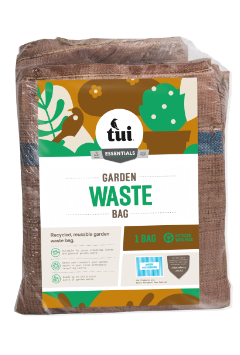 Tui Garden Waste Bag
Tui Garden Waste Bags are ideal for transporting and storing garden waste such as leaves, grass clippings and garden debris. The reusable bags are made from long-lasting, tough, woven recycled material.
Each bag holds up to 1/2 cubic metre of garden waste.
Benefits
Suitable for grass clippings, leaves and general garden waste.

Store and transport your garden waste to your local greenwaste recycling centre.

Holds up to 1/2 a cubic metre of garden waste.
Tui Garden Waste Bag reviews
Be the first to write a review