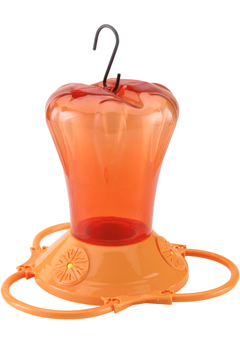 Tui Nectar Feeder
Tui are a popular bird to attract in many Kiwi backyards. The Tui Nectar Feeder is a specialist feeder for nectar feeding birds like tui, bellbirds and waxeyes.
Nectar feeding birds love sugar water, especially when nectar flowering trees are out of season.
Benefits
This feeder has a patented Bee Guard which prevents bees and wasps from reaching the nectar.
It is easy to clean and fill.
Suitable for all nectar feeding birds.
Directions for use
Dissolve 100g (approx. ½ cup) of white sugar in 1 litre of warm water.
Once cool, pour sugar water into the Tui Nectar Feeder.
If possible, place in or near a nectar flowering tree.
Make sure to replace the sugar water daily to prevent the spread of disease. 
Tui Nectar Feeder reviews
Works great. Tui's onto it first day. After a week, over 4 tui's emptying it every day. They even fight over it!

Tim Labett

We live on a small lifestyle block covered in bush. We tried various other nectar feeders but found this one to be the best for Tui and Korimako. For wax eyes you need to use a different kind of feeder. We feed our birds a lot - probably around 2.5 litres per day. This feeder is the best for high volumes and regular use because it is quick and easy to clean and refill - which we do a lot. Some of the issues identified in the other reviews are due to inexperience in using these things. For example, to stop the dripping once you have filled it and turn it over give it a strong downward shake - this will help the white sealers to lock into place and stop the dripping. Re bees and wasps - this has been an issue but we address that by hanging a wasp trap next to the feeder - which has solved the problem. You do have to take care to make sure the base is screwed on properly after refilling. The truth is that there is no perfect feeder on the market - they all have some weaknesses, this one included. But as far as we can tell this is the best one currently on the market.

Brian
Show more