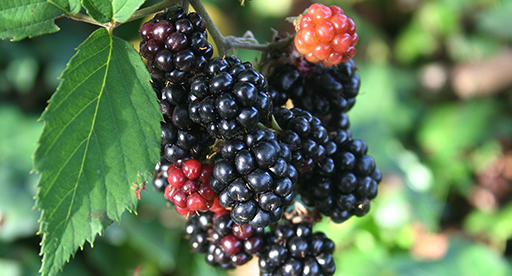 Sweet juicy blackberries are simply delicious and easy to grow at home. Create a berry patch full of bright, colourful berries with our simple guide below.
Prepare
Blackberries are an ideal home plant for most temperature areas of New Zealand.
Early or mid-season ripening fruit varieties are usually the best bet to avoid berries coming on in the beginning of winter. The blackberry has a much shorter fruiting time than other berries, and the fruit can be quite insipid and tasteless towards the end of the season.
To ensure success, it is best to buy plants from a garden centre to establish the desirable characteristics. Most blackberry plants available in garden centres are the thornless variety.
Plant
Blackberries are cold-hardy, and grow well in most areas of New Zealand. Plant in full sun for the best results. Blackberries are generally planted out in winter and spring.
Blackberries are a tall plant so choose an area in your garden away from strong winds, up against a fence on a north facing wall is a good option. A simple tee pee or pyramid system made from 3-5 straight branches is effective. Stakes, bamboo canes and trellis can be used as well.
The better the soil, the better your berries will grow. If you are starting with an existing garden bed dig in organic matter like Tui Sheep Pellets and Tui Compost to your soil. Then you can add a layer of Tui Strawberry Mix, a high quality planting mix containing the right blend of nutrients to provide your berries with the best possible start and sustained growth throughout the season.
Check plant labels for individual planting instructions. The best times to plant are early in the morning or late in the day, so the plants aren't exposed to the hot sun straight away.
Nourish
Feed your berries and they will feed you. Plants use nutrients from the soil as they grow, so replenishing the nutrients ensures your plants grow to their full potential.
Prune in late summer or autumn after fruiting.  Cut out the weakest shoots, leaving no more than three per plant.
Birds love juicy blackberries, to avoid them stealing yours, put up netting to protect your blackberries once they start fruiting.
As they grow in the spring, blackberries can be trained up a trellis or on wires. Strong supports will be needed if they are to be contained above the ground as the brambles can get really heavy
When should I plant
in
Jan
Feb
Mar
Apr
May
Jun
Jul
Aug
Sep
Oct
Nov
Dec
Harvest in

1

year