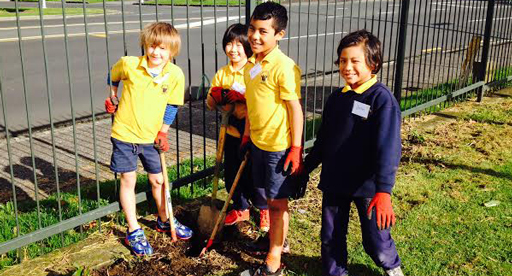 This week, the gardening team at participating Garden to Table school Dominion Road Primary School in Auckland give us an insight into their garden and share what they have been planting to use in their cooking!
School garden update
School name: Dominion Road Primary School
Region: Auckland
Planning
We began by planning what to plant for winter in our six raised beds. To enable crop rotation we planted each bed in family groups, brassicas, salads, roots and legumes intermingling with companion plants such as calendula to keep pests down. In late term three we began an ambitious project to extend the garden, designing our very own forest of food.
Our Garden to Table students will be totally involved in the creation of our minuture food forest. So far they have studied the plan and marked out garden boundaries. Next steps will be to prepare the site; skimming the grass, marking the paths and garden beds. This will involve planning, team work and gross motor skills, along with incorporating some great math skills to translate our plan into reality.
Planting
All our seeds and seedlings are in for the winter. We have beetroot, carrots, radish, lots of brassicas and winter greens including kale, spinach and silverbeet, our potato patch is coming along nicely too. This month we will be making the most of the winter rain to establish our fruit trees, we have feijoa, apple, plum, pear and orange ready to plant.
Potatoes are popular, some of the kids have experience with growing these before. It was great to hear them sharing their knowledge.
There was much excitement when our feijoa hedge fruited this autumn. Our broadbean seeds have been another hit, the kids have been amazed to see how fast the beans have sprouted and grown.
In the kitchen the kids have been practicing their knife skills chopping up crudite platters of carrot, celery, broccoli, capsicum and cauliflower which have been enjoyed by all.
Harvesting
Our gardens are new so we are waiting for later in winter to harvest our first crops of vegetables. On our first session we planted up barrows of winter herbs. These have flourished and the kitchen has used bay in stock for soup, along with parsley and chives in herb butter and dip.
Our coriander has done very well, we have gifted a bunch or two to some of our teachers who are great home cooks.
To celebrate Matariki we made Hua Whenua soup with lots of root vegetables, carrots, potato and kumura. Great to get a taste of the crops we have planted and delicious in this cold weather!
Maintenance
We have mulched our seedlings with seeweed to protect them from the slugs and use our worm wee tea to give them a good feed, especially our potatoes!
Sustainability
Our compost bins and worm farms make use of kitchen scraps and garden clippings. It's great to see this waste recycled back into goodness for our gardens.
Tui products used in the garden this month:
Tui Sheep Pellets, our go to gold for planting.
Tumbleweed Worm Farm, takes care of kitchen scraps and produces fertiliser for our gardens.
Tui Seed Raising Mix, for raising up brassicas.
Tui Certified Seed Potatoes, in our potato patch.
Tumbleweed Worm Blanket to keep our wormy friends warm.
Top garden tips for winter:
Protect seedlings from slugs in this wet season.
Remember to feed your hungry potato crops with nitrogen rich fertiliser such as worm tea.
With it's rain, winter is a good time to plant trees. The damp soil is easer to dig and and while not much is happening up top, tree roots are still active sucking up water and nutrients ready to flourish come spring.
Check out their delicious Hua Whenua (Vegetable Soup) and Maori Bread recipes
Tui & Garden to Table
We are excited to be supporting Garden To Table as our school programme this year. Garden to Table is a trust, which runs a gardening and cooking programme in schools across New Zealand. As participants in the Garden to Table programme, seven to 10 year-old children spend time in a productive vege garden and home-style kitchen each week. There they learn skills that will last them a lifetime, and discover just how much fun it is to grow and cook their own seasonal vegetables and fruits.
Tui is providing starter packs to each of the new schools, and seasonal packs during the year.