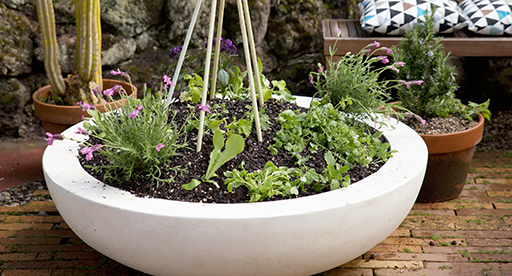 You may not own the property you live at, but you can still enjoy the goodness of fresh homegrown food. If you're renting and the property doesn't have an established vege garden, there's plenty of ways to 'grow your own', no matter the size of your space.
The bonus is you can take your plants with you when you move!
MAKE IT MOVABLE
Choose pots and containers which can move with you and around your garden. Small concrete planters, troughs, flexi tubs with handles, wine barrels, terracotta planters, old baths and wooden planters are all great options - add wheels for even more movability! Garden centres have a wide range of pots and containers in a variety of sizes. Choose options that can be easily lifted and relocated.
Pallet gardens are the perfect way to maximise space and grow plenty of your own fresh food. Simple and fun to create, hang yours on a wall if you can, or sit it up against a fence in your backyard close to the kitchen. Follow our Pallet Gardening Hack here.
Vegepod raised garden bed kits are a simple and effective way to grow your own while renting. The kit can be placed on a stand or bench and moved with you.
EDIBLE OPTIONS
When planning edibles to grow, think about what you like to eat and if you're planting in established garden beds, consider the length of time the crop takes to harvest in case you move. Follow the handy Crop Picker tool on our website homepage to find out what to plant when in your region.
Veges
There's plenty of vege picks to grow in less permanent gardens. Don't be afraid to pack veges in together and mix and match different varieties and crops for a greater selection.
Salad greens are a winner for both pots and containers and garden beds. Lettuce, rocket, mesclun and mizuna are all 'pick as you need' options that can be planted year-round for continuous harvests.
Radish, spinach, spring onions and rhubarb are all good options.
In summer you can look at potatoes, capsicums, chillies, cucumber (look out for the mini varieties!) and tomatoes - dwarf, container, patio or tumbling tomato varieties are good options.
Fruit
Dwarf fruit trees are a wonderful option. Select dwarf varieties for pots including apple, pear, nectarine and peach. Don't forget citrus including lemon, lime and mandarin too!
Other great options for pots and containers are strawberries and blueberries. For blueberries choose a pot that is at least 20L. Strawberries can be grown in hanging baskets, guttering, straw bales, or you can plant straight into a bag of Tui Strawberry Mix.
Herbs
Perfect herbs for pots to consider based on your taste and cooking needs are coriander, basil, chives, rosemary, sage, thyme, mint and parsley.
For the garden bed
If the property has an established garden bed, plant crops that require more space and depth including: carrots, parsnip, onions, celery, silverbeet, garlic and brassicas like cabbages, broccoli and cauliflower.
RENTERS PICKS FROM OUR FACEBOOK GROUP
"We always try and plant what we can and think of it as leaving a bit of love for the next tenants if we have to move out. I have used old wheelbarrows as planters for strawberries and leafy greens". - Allanya
"I grow mine in pots and wooden planter boxes. I just scored a bath and want to plant it with veges and
herbs!" - Tracey
"I have rented the same house for 11 years. I love veges and am always adding more. If I run out of space I plant in big blue drums cut in half." - Heather
"I grow vegetables in pots and large containers. I've got two blueberries, a raspberry, boysenberry, mandarin, lemon and lime all in large 65L pots." - Emma
When should I plant
in
Jan
Feb
Mar
Apr
May
Jun
Jul
Aug
Sep
Oct
Nov
Dec
Harvest in

30-40

days