Tui Urban Oasis Planter
The Tui Urban Oasis Planter is a simple to use self-watering planter designed to grow and nurture your plants.
The large growing area allows room for climbing plants as well as lower growing vegetables, herbs and flowers. Perfect for patios, court yards or small spaces.
This planter takes approximately 1.5 x bags of Tui Vegetable Mix 40L to fill. 
Benefits
Self watering container with extra large 16 litre water storage.
Includes a cover to protect plants from harsh conditions and extend your growing season.
Suitable for fruit, veges and flowers.
Container, separator, feet and joiners made from recycled plastic.
Directions for use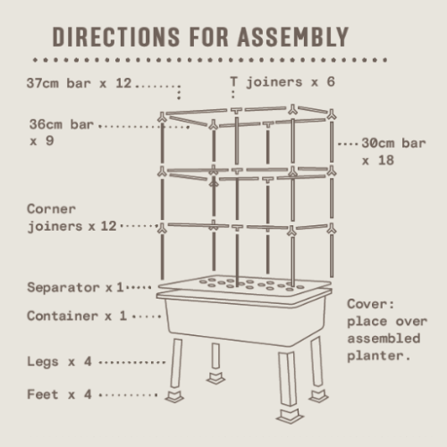 Directions for planting:
Water plants thoroughly before planting and allow to drain.
Fill your container with Tui All Purpose Potting Mix up to 3cm from the top. This planter holds 50 L.
Make a small hole for each plant.
Gently take the plant from the current container, loosen the root ball and remove any loose or dead plant material and roots.
Position the plant in the hole. Gently firm mix around the base of the plant. The mix should be at the same level on the plant as it was in the previous container.
Water plants well and ensure the reservoir is filled. Water regularly and top up the water reservoir as required.
Tui Urban Oasis Planter reviews
I am so happy with my Oasis planter, Took a while to do the cage but turned out all good

Judy S

Best buy ever, the self-watering reservoir is excellent. Haven't used the covering yet.

S. Tui