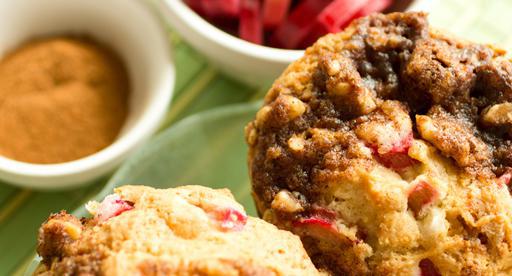 Create a sweet treat from your garden with Ann's melt in your mouth muffins. The delicious crumble topping gives these muffins the wow factor, making them popular among family and friends, even those who don't like rhubarb!
Ingredients
2 ¾ cups flour
1 cup brown sugar
1/2 tsp cinnamon
2 ½ tsp baking powder
1/2 tsp baking soda
1 egg
1 cup milk with 1 tsp vinegar or lemon juice added
1/2 cup oil
1 tsp vanilla essence
1 cup chopped strawberries
1 cup chopped rhubarb (I like to put the rhubarb in microwave on high for about 35 seconds but it is not necessary to do so.)
Topping
1 tbsp butter
1/2 cup chopped walnuts
1/2 tsp cinnamon
1/3 cup brown sugar
Combine dry ingredients.
Whisk or put in blender the egg, milk and oil then add to dry mixture stirring until just mixed.
Fold in rhubarb and strawberries.
Spoon into greased muffin tins.
For the topping rub the butter into the chopped walnuts, cinnamon and brown sugar and sprinkle on top of muffins.
Bake 200 degrees for about 20 minutes. Leave in tin for a few minutes before removing.