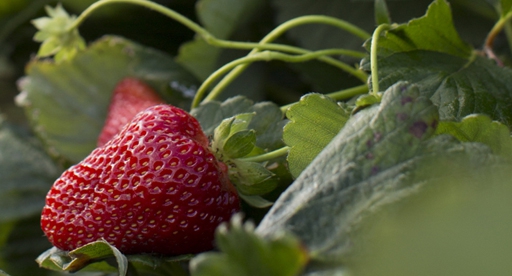 With summer on its way strawberries are top of mind! Make sure you have yours planted to enjoy delicious fresh strawberries picked straight from the garden for summer snacking and cooking.
We've put together our top strawberry varieties to plant this season.
When should I plant
in
Jan
Feb
Mar
Apr
May
Jun
Jul
Aug
Sep
Oct
Nov
Dec
Harvest in

140-160

days
Strawberries varieties are either short-day or day-neutral. Short-day varieties include Camarosa, Chandler and Pajaro. These varieties produce flowers buds when the days are short providing an early spring crop. They are best planted in mid-winter. Day-neutral varieties include San Andreas, Aromas and Temptation. They flower throughout spring and summer and therefore can be planted later than short-day varieties. 
Chandler
Producing large, dark red fruit, with firm-medium red flesh, Chandler has excellent flavour. High yielding and vigorous plants, this variety has high resistance to weather. Expect a light early crop followed by a heavy summer crop. Juicy fruit can be picked fresh for use in a wide range of desserts, and also enjoyed as a healthy snack or garnish.
Pajaro
Large, bright red fruit with firm flesh and excellent flavour. Pajaro are vigorous plants that produce high yields of delicious fruit throughout the summer season. Pick this succulent and juicy fresh fruit for a variety of desserts or as nutritious and great tasting snack.
Aromas
Produces large bright red fruit with firm flesh and great flavour. Aromas thrives in full sun and produces for several months. Perfect for snacking and desserts.
Monterey
'Ever-bearing' Monterey is very popular with organic growers as it has a high resistance to most strawberry disease. The fruit is large and has a delicious sweet flavour. The juicy fruit can be picked fresh for use in a range of desserts. Also perfect as a healthy snack or garnish.
Camarosa
Popular Camarosa produces medium sized red fruit with firm flesh and excellent flavour. Producing a light, early crop followed by a heavy summer crop, this variety is high yeilding. The fresh juicy fruit can be used to brighten and sweeten desserts, while also making a delicious snack.
Ventana
A high yielding medium sized fruit with firm fresh and sweet flavour. Similar to the Camarosa variety but produces greater quantities of early-season fruit. 
San Andreas
Provides a long harvest season of tasty glossy red fruit. San Andreas has an upright habit and good resistance to disease and rain. Enjoy it's juicy sweet fruit straight off the plant.
Sundae
Produces large red fruit with a delicious flavour. Sundae strawberries have firm red flesh in an oval shape, and make the perfect summer fruit!
Top strawberry tips:
Choose a spot in full sun.
Before planting and dig in organic matter like Tui Sheep Pellets and Tui Compost to your soil.
Plant in Tui Strawberry Mix is specifically formulated with extra potassium, just what your strawberry plants need to encourage a plentiful harvest of big juicy fruit.
Feed your plants and they will feed you. Replenishing nutrients used by your strawberries ensures they will grow to their full potential. For strawberries planted in garden beds feed with Tui Strawberry Food every four weeks during key growth periods of spring and summer. For strawberries in pots and containers use Tui NovaTec Premium fertiliser.
A good rule of thumb is to plant five strawberry plants for each member of the household.