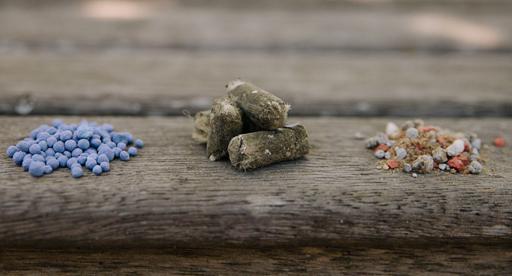 To grow healthy plants you need healthy soil, and sometimes nature needs a helping hand to ensure you get the most out of your plants. Choose the right fertiliser for your plants using our handy guide below.
General fertilisers
For general garden fertilising and soil conditioning use Tui Blood & Bone, Tui Super Sheep Pellets, or Tui Lime. These are great additions before planting.
Once planted general fertilisers which are suitable for all plant types include Tui General Fertiliser and Tui NovaTec Premium fertiliser.
Fruit, Veges & Flowers
Use the Tui Food range of specialty fertilisers for your crops like tomatoes, strawberries and potatoes as they have the right blend of nutrients needed. For fruit and veges planted in pots and containers use an all-purpose variety like Tui NovaTec Premium fertiliser.
For Lawns
Lawn fertilisers contain the correct nutrients for the needs of your lawn. Tui Lawn Fertiliser is a premium blend of nutrients formulated to promote the establishment and growth of lush green lawns. The Tui LawnForce range includes a variety of premium granular slow release fertilisers.
Time Release Fertilisers
Time release fertilisers will feed plants over a period of time, to save you fertilising too regularly. Tui Nitrophoska will feed your plants for up to three months, and Tui NovaTec Premium fertiliser will feed plants throughout your garden for up to four months.
Tui Organic Seaweed Plant Tonic
The best way to create and maintain a stunning garden is to use garden fertilisers in addition to plant tonic. Apply Tui Organic Seaweed Plant Tonic every four weeks to promote strong root growth and reduce transplant shock.
Tui Seaweed & Fish Liquid Fertiliser
Supercharge your plant growth with a powerful blend of seaweed and fish. Tui Seaweed & Fish Fertiliser is specially formulated with added plant nutrients to encourage healthy plant growth, fruit and flower production. It also conditions soil, improving clay and sandy soils and encouraging microbial activity. N-P-K 2.7-0.3-1.6.
;