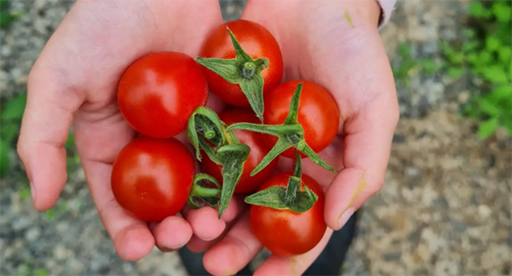 Follow our care tips to keep your tomatoes healthy and producing plenty of flavoursome fruit for summer salads and sandwiches, or to turn into sauce, chutney or jam!
PESTS & DISEASES
To reduce the chance of blight and fungal diseases, avoid watering plant foliage.
Birds love juicy tomatoes – put up netting to protect yours.
Asparagus, basil, carrots, celery and parsley are ideal companion plants for tomatoes to help each other grow.
Tomatoes are also compatible with chives and onion.
WATERING
Water regularly, a deep soaking two or three times a week is best. Irregular watering can lead to blossom end rot, and if plants dry out they are more susceptible to pests and diseases.
The best times to water are in the morning or evening rather than in the heat of the day.
MAINTENANCE
As your tomatoes grow, remove the laterals to encourage bigger and better fruit. Laterals are the shoots that grow out from the side of the stem.
Prune the base leaves to let sun and light in to improve air circulation to help prevent fungal disease like blight.
HARVESTING
Allow fruit to ripen on the plant. Although tomatoes do ripen further once picked, the flavour is always at its best when allowed to ripen fully on the plant. With sun, warmth and water your tomatoes will ripen soon enough!