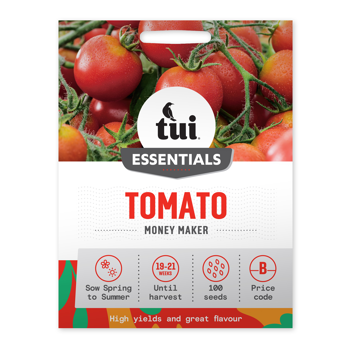 Tui Tomato Seed - Money Maker
Tomatoes take pride of place in many Kiwi gardens over the summer season. In sandwiches or salads, roasted or plucked straight from the vine, they're a family favourite.
Tui Tomato Seed - Money Maker is a English heirloom variety, tolerant of humidity, that produces low acid fruit.
As an indeterminate variety Money Maker will continue growing and producing throughout the season. It's a heavy producer of smooth, medium sized flavoursome tomatoes. 
Seed can be sown direct or into trays.
Contains 100 seeds.

Benefits
Indeterminate variety.
English heirloom variety.
Tolerant of humidity.
High yielding. 
Low acid, flavoursome fruit.
Tui Tomato Seed - Money Maker reviews
Great thanks for telling me how to grow these from seeds. I'll give it a go now

Diane Sanders