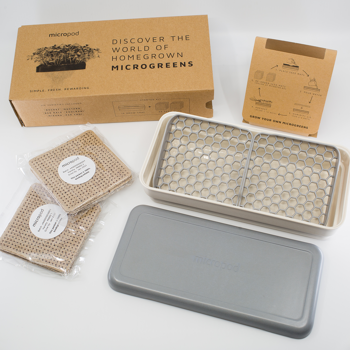 Micropod Starter Kit
The micropod Starter Kit blends functionality and aesthetics and will complement any home. Designed to sit on any windowsill or in a warm sunny spot, you can enjoy fresh, homegrown microgreens in less than two weeks by just adding water!
Microgreens are the seedlings of leafy greens, vegetables and herbs. They can have up to 40 times more nutrients than their mature counterparts, and the vivid colours, intense flavours and array of textures can bring any dish to life. Use them in sandwiches, salads, burgers, atop pizzas, blended into smoothies, pestos. Enjoy them on every meal for that extra nutrient boost!
Starter Kit includes:
Growtray and lid - made from bamboo fibres that are eco-friendly, sustainable, biodegradable and dishwasher safe.
Six seedmats (enough for three growing cycles). Varieties include: 2x Rocket, 2x Mizuna, 2x Red Mustard.
2 x honeycomb grills that are specially-designed to support optimal growth.
Dimensions: 110mm x 225mm x 50mm
Available in 3 colours – Stone, Charcoal and Grass.
Benefits
Made in NZ using all natural paper pulp coconut fibers.
Enjoy microgreens on every meal for that extra nutrient boost!
Directions for use
Simply place the seedmats into the tray (they are already loaded with nutrients and seeds), then add water and in 7-15 days, a fresh harvest of nutritious microgreens await!
Throw the used mat into your garden to break down and allow the nutrients to be fed back into the garden. It's soil-free, compostable/recyclable and so easy to use.
Micropod Starter Kit reviews
Be the first to write a review