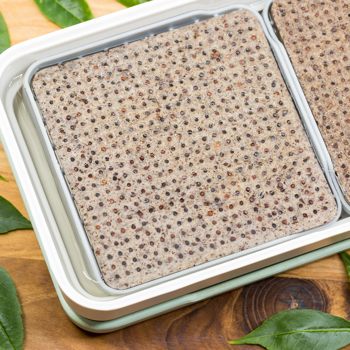 Micropod Seed Mats
Micropod's patented seedmats are packed full of nutrients to make indoor growing as easy as 'just add water'!
Each seedmat contains approximately 440 individual seeds with embedded nutrients (activated by water). They're also optimally spaced to provide airflow during germination in order to grow fresh, healthy and nutritious microgreens each and every time.
12 Pack Seed Mats are available in three different varieties – Rocket, Mix Pack 1 (Red Mustard, Rocket, Mizuna) and Mix Pack 2 (Mustard, Broccoli, Pak Choi).
6 Pack Seed Mats are available in two different varieties – Wellness blend (Broccoli, Mizuna, Purple Pak Choi) and Spicy blend (Rocket, Red Mizuna & Mustard).
Benefits
Made in NZ
Non GMO and Untreated Seeds
Fully compostable
Directions for use
Simply place the seedmats into the tray (they are already loaded with nutrients and seeds), then add water and in 7-15 days, a fresh harvest of nutritious microgreens await!
Throw the used mat into your garden to break down and allow the nutrients to be fed back into the garden. It's soil-free, compostable/recyclable and so easy to use.
Micropod Seed Mats reviews
Be the first to write a review