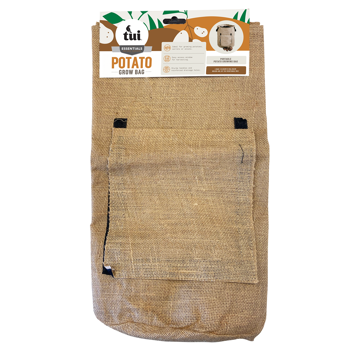 Tui Potato Grow Bag
The humble potato is a staple on many dinner tables around New Zealand. Roasted, boiled, mashed or in a salad – no matter how you serve yours, they will always taste better dug out of your own garden.
Use the Tui Potato Grow Bag, a portable potato growing bag, to grow your own.
This bag holds approximately 1 x bag of Tui Vegetable Mix
Follow our step by step guide to growing potatoes in the Tui Potato Grow Bag.
Benefits
Ideal for growing potatoes, carrots or onions.
Easy access window for harvesting.
Sturdy handles and reinforced drainage holes.
Directions for use
How to use:
Add a 10cm layer of Tui Vegetable Mix to the base of your Tui Potato Grow Bag.
Place approximately 3-5 sprouted seed potatoes in the bag with the sprouts facing upwards.
Cover seed potatoes with a 5cm layer of Tui Vegetable Mix and gently pat down.
Water your planted potatoes with Tui Organic Seaweed Plant Tonic.
As your potatoes grow keep mounding with Tui Vegetable Mix up to 5cm from the top of the bag.
Water and feed your potatoes regularly, they are ready to harvest when the tops die back. To harvest, open the easy access window and enjoy your bumper crop!
Tui Potato Grow Bag reviews
Be the first to write a review