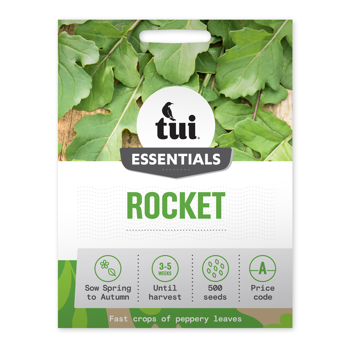 Tui Rocket Seed
Rocket is an easy grow crop ideal for pots and containers, perfect for beginner gardeners and a salad staple.
Tui Rocket Seed offers fast crops of peppery leaves. Pick a leaf at a time and the plant will regrow for continuous harvests.
Sow in seed raising trays, direct in the garden, or in containers if you're short on space.
Contains 500 seeds.

Benefits
Young leaves are great for salads.
Older leaves have a strong, spicy flavour.
Cut and come again.
Recyclable paper envelope.
Tui Rocket Seed reviews
Be the first to write a review