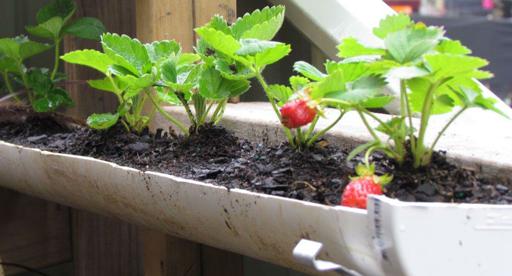 Planting strawberries in guttering is a great space-saving option, and also a fun project to do with your kids!
Prepare
Select a piece of guttering, and drill some drainage holes in the bottom.
Choose a sunny spot for your strawberry plot.
Plant
Soak your strawberries in a bucket of Tui Organic Seaweed Plant Tonic to help prevent transplant shock.
Fill the guttering with Tui Strawberry Mix. This mix is specially formulated with essential nutrients and fertilisers to encourage fast establishment and healthy growth for your strawberries. It also has extra potassium which is key for big, juicy fruit.
Gently loosen the root ball of your plant, and make a hole to plant the strawberry plant.
Plant strawberry plants approximately 150mm apart.
Press soil gently around the base of the plant and water well.
Nourish
Keep your strawberries well watered and nourished, and they will have a better chance of keeping insect pests and diseases at bay.
Being planted in guttering the strawberries will need watering more regularly, especially over the summer months, to prevent them from drying out.
Feed your strawberries regularly with a liquid fertiliser, or Tui NovaTec Fertiliser.
Protect
Surround your plants with Tui Strawberry Straw – to help protect the roots from extremes in temperatures, conserve moisture and keep the fruit off the soil so it doesn't rot.
Cover with netting once the fruit sets, to stop birds beating you to the crop!
Click here for our Strawberry Growing Guide for planting strawberries in garden beds, pots and containers.