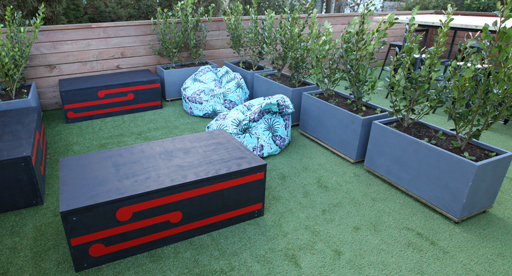 Whether you have a balcony, patio or small space, you can still inject some green into your life. Plant in pots and containers to create a privacy screen with luscious green foliage and beautiful blooms, or fill your small piece of paradise with easy to grow edible options.
Shopping list: Tui Superlight Potting Mix, Tui NovaTec Premium Fertiliser, Tui Mini Sheep Pellets, Seaweed Plant Tonic, griselina 'Broadway Mint', salad greens, herbs, flower plants - on HOMEmade they planted alyssum, chrysanthemum, lobelia, pansy, polyanthus and viola.

Prepare
If you're planting for privacy:
Griselinia 'Broadway Mint' – planted in rows across a few planters is the perfect privacy screen.
Add a pop of colour:
Underplant the griselinia with beautiful blooms for added interest and colour. Alyssum, chrysanthemum, lobelia cascade, pansy, polyanthus 'Hot Blend', and viola 'Tiger Red Yellow' are great options.
To grow edible delights for food at your fingertips:
Dwarf fruit trees such as citrus, apple, pear, nectarine, peach, apricot work well in pots/containers.
Salad greens and herbs that grow well in pots/containers: mesclun, spinach, lettuce, coriander, basil.
Select pots and containers based on the look you would like to achieve. Options include: concrete planters, wine barrels, and terracotta planters. Caster trollies are a great option if you would like your containers to be movable and used as space dividers on your balcony.
The better the soil, the better your plants will grow. When planting your chosen plants in pots or containers, choose a potting mix that is free draining. Tui Superlight Potting Mix is a premium potting mix formulated to grow strong, healthy plants. The convenient, easy to carry lightweight mix is perfect for use in apartment balcony gardens.
Plant
Check plant labels for individual planting instructions. When planting ensure plants aren't exposed to the hot sun straight away.
Soak plants in a bucket of Seaweed Plant Tonic before planting to help prevent transplant shock and encourage healthy growth.
Partly fill your container with Tui Superlight Potting Mix.
Gently loosen the root ball and position the plant in the centre of the container.
Fill your container with Tui Superlight Potting Mix up to 3cm from the top.
Tap the container gently on the ground to settle the mix.
Press soil gently around base of plant.
Water your plant well.
Nourish
Feed your plants and they will reward you. Plants use nutrients from the soil as they grow, so replenishing the nutrients ensures your plants remain healthy. Feed plants in pots and containers with Tui NovaTec Premium Fertiliser, and apply Tui Mini Sheep Pellets to add organic matter. Well watered, well nourished plants will have a better chance of keeping insect pests and diseases at bay.
Tui Tip
Plants in pots and containers may require more regular watering than garden beds. Water in the morning or evening, and avoid watering in the heat of the day.
Check out this week's Resene living room makeover from HOMEmade here >