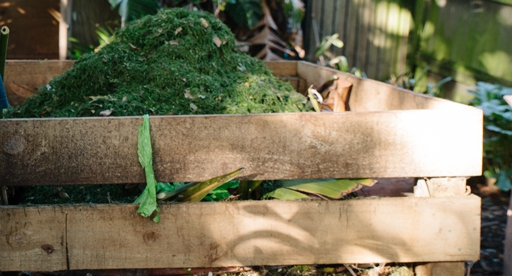 Compost is nature's way of recycling. Made from waste garden material, compost is an essential ingredient for creating rich, friable soil and therefore healthy plants. Find out how to make compost with our guide below and use compost throughout your garden for healthy plant growth!
How to set up your compost system
To get started you will need a good structure or container to hold your compost. Compost bins are available from your local DIY store and garden centre, or you could build your own, for example out of plastic bins or pallets, or create a compost heap. Look online for more ideas.

Choose a sunny position for your compost system and ensure it is easily accessible for adding ingredients and regular mixing.
Prepare your compost in layers that are a blend of carbon and nitrogen. This means adding a mix of organic garden and kitchen waste materials.
Carbon: Leaves, sticks, twigs and newspaper.
Nitrogen: Fruit and vegetable kitchen scraps, lawn clippings, egg shells, coffee grounds, tea leaves and sheep pellets.
Avoid adding: meat, dairy products or bread as these can attract unwanted pests. Don't add any diseased plant material, to avoid spreading the disease.
A good rule of thumb is to add nothing larger than your little finger. Break up larger items like sticks, twigs and cardboard before adding them, to help them break down more quickly.
Layer materials evenly, making sure each layer is no thicker than 10cm. For every layer of backyard and garden waste, add a layer of kitchen waste material.
To help get the composting process underway you can add some existing compost to each layer. Add a little water with each layer and mix the material every few additions.
Put a lid on your compost bin to enable it to decompose quickly. Mix your compost regularly. It is compost when it is dark brown and smells earthy - it takes six to eight weeks to fully mature.
Using Compost in your garden
Compost has a variety of benefits when used in your garden. It replaces nutrients that have been removed during a growing season, improves soil structure and increases the amount of oxygen available to plants.
Compost also conditions soil, improves moisture retention, increases earthworm activity and improves fertiliser use by plants.
For best results compost should be dug into the soil. Don't plant directly into compost as this can burn plant roots.
Tui Tips
The content of your compost bin should have the consistency of a damp sponge. If your compost gets a bit too wet, adding paper will help soak up excess water.
Regularly apply Tui Worm Farm & Compost Conditioner, a specially selected blend of natural minerals to help neutralise acidity and balance pH levels. In compost, this conditioner promotes efficient conservation of essential nutrients by soil bacteria and helps increase the availability of nutrients for plants. 
When should I plant
in
Jan
Feb
Mar
Apr
May
Jun
Jul
Aug
Sep
Oct
Nov
Dec
Harvest in

60-120

Days