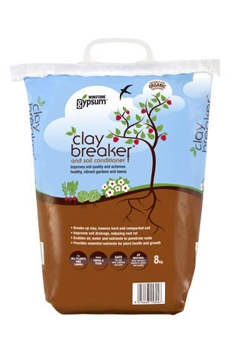 Gypsum
Gypsum is a slow-release source of sulphur and calcium which play a key role in improving soil structure, aeration and water retention. So you can grow better, healthier crops.

When Gypsum dissolves, it releases equal proportions of calcium and sulphate. Calcium sulphate improves the structure and consistency in soil and most other growing media allowing better water penetration and retention.

Gypsum is an environmentally friendly, natural mineral that is mined from ocean deposits formed centuries ago. It's non-toxic and not harmful to people or animals.
Benefits
Loosens clay and compacted soils.
Releases calcium and sulphur into the soil.
Promotes healthy root growth.
Will not upset the soil's pH balance.
Will not increase the alkalinity of soil.
Directions for use
In the vegetable garden
Use on: cabbage, cauliflower, broccoli, pea, radish, potato, bean and onion.
Apply 0.5-1kg of gypsum per square metre of soil.
Dig in and mix with soil.
Fruit trees
Apply 0.5kg-1kg around each tree.
Water in well.
Flowers
Apply 0.5kg per square metre.
Mix in to the soil.
Water in well.
Gypsum reviews
I use this mainly on the lawn where foot traffic is high to help keep the soil in check. Works well

Brent M

Thanks for these easy helpful guide notes. Will apply and watch it break down my clay soil.

Christine I