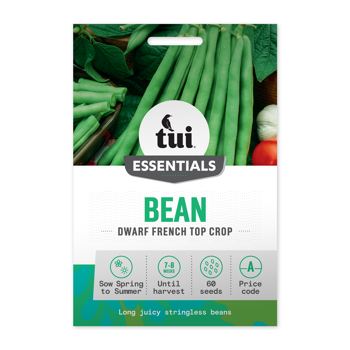 Tui Bean Seed - Dwarf French Top Crop
Dwarf beans are relatively easy to grow and are any easy win crop for beginners!
Tui Bean Seed - Dwarf French Top Crop offers long, juicy stringless beans that don't take up too much space or need a big structure to grow up - although some support can be helpful for plants.
Contains 60 seeds.

Benefits
High-yielding variety with 15cm long pods.
Good disease resistance.
Straight green stringless beans.
Recyclable paper envelope.
Directions for use
Sow direct into garden bed
Work the soil until fine and crumbly.
Before planting dig in a layer of Tui Seed Raising Mix.
Sow seeds 25mm deep and 10cm apart.
Provide support if required.
Keep well watered.
Follow our Growing from Seed Guide
Note: This seed contains a fungicide coating as required by the Ministry of Agriculture. Do not eat seeds or feed to birds or animals.
Tui Bean Seed - Dwarf French Top Crop reviews
Be the first to write a review