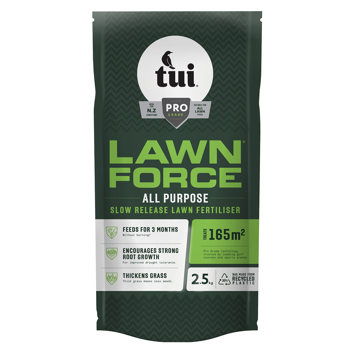 Tui LawnForce® All Purpose Fertiliser
New Tui LawnForce® is the ideal formulation to deliver outstanding results for New Zealand lawns.
Engineered with convenient slow release fertiliser prills for up to three months sustained feeding, Tui LawnForce® All Purpose delivers long lasting results for your lawn. This ProGrade formulation is trusted by major golf courses and sports arenas across the country, so you can rest assured you're selecting the optimum lawn fertiliser for your backyard.
Tui LawnForce® All Purpose is suitable for all lawn types. Follow our 3 step Lawn Growing Guide >
Treats 165m².
N-P-K  20-2-16
Benefits
Feeds for 3 months without burning.
Encourages strong root growth for improved drought tolerance. 
Thickens grass for less weeds. 
Suitable for all lawn types. 
Directions for use
Apply to actively growing lawns (in spring and autumn). For best results, apply to dry grass.
Simply apply 15g per square metre of lawn by hand, or with a lawn spreader, distributing evenly.
Water in well after application.
Spread fertiliser evenly and follow the application rate. Over application can burn your lawn. Avoid contact of fertiliser with paths, driveways and other porous or hard surfaces as the iron content may stain. For New Lawns use Tui LawnForce New Lawns.
Tui LawnForce® All Purpose Fertiliser reviews
My last go at getting a difficult patch of lawn growing foundered, but I have just got a great crop of grass coming along in that patch after using TUI lawn force! Many thanks!!

Neil Anderson

Can I buy it in commercial quantities?

Peter Nixon