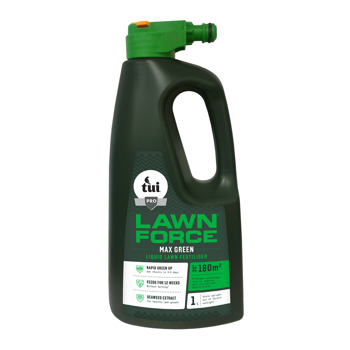 Tui LawnForce® Max Green Liquid Lawn Fertiliser
Tui LawnForce® is the ideal formulation to deliver outstanding results for New Zealand lawns. 
Engineered as a convenient liquid formulation to green up your lawn in as little as three days, and containing essential nutrients for up to 12 weeks sustained feeding.
Tui LawnForce delivers rapid and lasting results for your lawn. This ProGrade technology is trusted by major golf courses and sports areas across the country, so you can rest assured you're selecting the optimum liquid lawn fertiliser for your backyard.
Treats up to 180m².
N-P-K 22.8-0-4.1
Also available as a 2.5kg slow release granular fertiliser. 
Benefits
Rapid green up - see results in 3-5 days.
Feeds for 12 weeks without burning.
Seaweed extract for healthy lawn growth.
Directions for use
Note: the label has a 'peel here' on the back to open up the directions on the label.
Apply to actively growing lawns.
Shake well before use.
Attach hose to the hose-on applicator and turn on hose to low/medium flow. Lift yellow plastic tab to begin applying.
Walk at a steady pace using a sweeping action to distribute evenly over your lawn. Slightly overlap areas to ensure even coverage. For optimal results, apply at the rates shown in the coverage table below.
Close the applicator, turn off and disconnect the hose.
Coverage
Results
Best - feeds for 10-12 weeks: 90m²
Better - feeds for 8-10 weeks: 140m²
Good - feeds for 6-8 weeks: 180m²
Tui LawnForce® Max Green Liquid Lawn Fertiliser reviews
To correct the comments below, it does contain instructions behind the peel now. But you have to be careful to separate the first layer of label. Initially the full label comes off and instructions cannot be seen. Fertiliser works well and is easy to apply from bottle.

Peter

No instructions despite the peel here tab.

Nicky
Show more