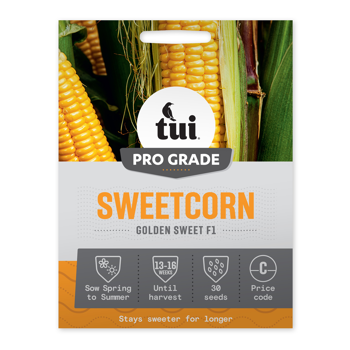 Tui Sweetcorn Seed - Golden Sweet F1
Delicious sweetcorn is a firm favourite over summer. The taste of homegrown sweetcorn is superior and at it's mouth-watering best when eaten within hours of harvesting.
Tui Sweetcorn Seed - Golden Sweet F1 is bred for its high sugar content. It produces extremely juicy cobs that stay sweet, even in larger cobs.
Seed can be sown direct or into trays.
Contains 30 seeds.
Benefits
High sugar content.
Produces extremely juicy cobs.
Stays sweeter for longer.
Directions for use
Sowing in trays
Prepare seed trays with Tui Seed Raising Mix.
Sow seeds 25mm deep.
Keep well watered.
Sowing direct
Before planting work Tui Seed Raising Mix into soil.
Sow seeds 25mm deep in a square formation 25cm apart. 
Keep well watered.
Once established, feed with a suitable Tui fertiliser. 
Follow our Growing from Seed Guide
Seedlings can be transplanted once they have two sets of true leaves.
Note: This seed contains a fungicide coating as required by the Ministry of Agriculture. Do not eat seeds or feed to birds or animals.
Tui Sweetcorn Seed - Golden Sweet F1 reviews
Be the first to write a review