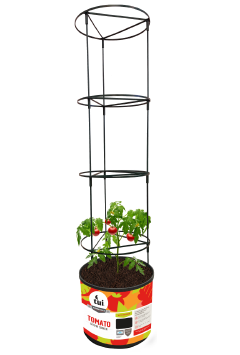 Tui Tomato Grow Tower
The Tui Tomato Grow Tower is a self-watering and simple way to grow and support your tomatoes. 
The extendable support tower allows your tomatoes to grow up to 1.5 meters. Perfect for patios, court yards or small spaces.
This planter takes approximately 1 x bag of Tui Tomato Mix 30L to fill.
Benefits
Self watering pot with extra large 8 litre water storage.
Extend the support tower as your plants grow to 1.5 metres.
Suitable for all tomato types.
Made from recycled plastic (except risers).
Directions for use
Directions for growing tomatoes
Remove the black insert from the base of the pot. Take out the twelve risers and four support rings.
Re-fit the black insert into the pot taking care to align the holes in the side of the pot with the raised insert.
Insert three risers into the holes in the base of the pot.
Water your plant thoroughly before potting and allow to drain. We recommend one tomato plant per tower.
Partly fill your pot with Tui Tomato Mix.
Gently take the plant from the current pot, loosen the root ball and remove any loose or dead plant material and roots.
Position plant in the centre of the new pot and fill with Tui Tomato Mix up to 3cm from the top. Water well and ensure the reservoir is filled. Water regularly and top up the water reservoir as required.
Fit the first ring into the risers and as your plant grows add additional risers and rings.
Fertilise with Tui Enrich Vege, Tomato & Herb Controlled Release Fertiliser.
Tui Tomato Grow Tower reviews
Really good product are the rings and risers available as extras at all please???

Damian Bason

Can I buy new black inserts for my Tui Tomato Towers?

Brenda Short
Show more