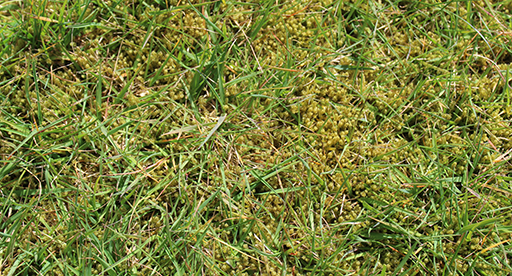 Unsightly moss can ruin the well-kept appearance of your lawn. However, with a little TLC you can transform a mossy lawn into beautiful green patch to be proud of.
Follow our guide to learn what causes moss in lawns, tips to prevent it and steps on how to treat it.
Moss in lawns is a sign of an underlying problem. Therefore, the moss will keep coming back if you don't change the reason for it growing in your lawn. 
Common causes for moss
Poor drainage
Heavy clay soils
Shade e.g. shaded side of the house or trees shading the lawn.
Lack of nutrients
Heavy foot traffic causing compacted soil
Preventing moss in lawns
Regular lawn care will encourage healthy growth and reduce the chance of moss establishing. 
To improve drainage aerate your lawn by spiking it with a garden fork to open up the soil. Dig the fork in to the ground 5-10cm at regular intervals. Alternatively, use spikes that can be attached to shoes and walk over the lawn. Place a layer of Tui LawnForce® Lawn Preparation Mix over the lawn to fill the holes, this adds organic matter, fertiliser and help stimulate root growth.
Apply gypsum if the soil is heavy and compacted which will break down the clay and loosen the soil particles.
If the lawn is on the south side of the house and shade is a problem, you could consider paving that area if the moss is persistent.
Fill out your lawn by over-sowing bare or patchy areas. Follow our guide to patching a lawn.
Feed your lawn in autumn and spring with Tui LawnForce® slow release lawn fertiliser to promote lush growth.
Treating moss in lawns
The best time to treat moss is in spring and autumn.
If the moss problem is not widespread, it may be possible to get on top of it by simply scarifying the lawn - the process of detaching your lawn by raking over to remove moss and dead organic material, and then improving the overall health of the lawn by regular applications of Tui Lawn Fertiliser, containing Sulphate of Iron to control moss.
If the problem is more widely spread, a combination of moss control product, scarifying, aerating and regular lawn care (refer to the list below) is required to help treat it and reduce the spread.
Tui Moss Control for Lawns is a specialty moss control product with the active ingredient Sulphate of Iron to eliminate moss along with promoting a deep green colour in your lawn.
Once the moss turns black rake it out and over-sow with lawn seed. Tui LawnForce® Superstrike Shady Place Lawn Seed is a good option for shady spots in your garden. 
Discover more lawn advice with the Tui LawnForce® Hub