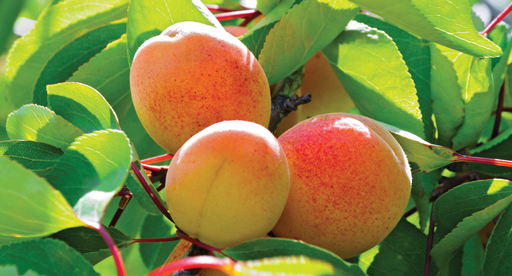 Summer is the main time for enjoying the crops from your home orchard, starting with early stonefruit prior to Christmas through to the apples, pears and feijoas as the season changes to autumn. Kate Marshall from Waimea Nurseries shares her expert advice to help you care for your fruit trees, along with tips for plentiful crops!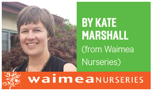 FRUIT SEASON
Some types of fruit trees produce a crop sooner than others, with dwarf varieties the quickest. It's important to remove any fruit that forms in the first season after planting. This is to allow the tree to establish a strong root system and framework of branches, rather than putting a lot of energy into fruit development.
COMMON ISSUES
Unfortunately sometimes fruit trees may fail to produce a crop. More often than not, the problem is due to a lack of pollination. This can be caused by bad weather during flowering (wet, cold and/ or windy), not having the cross-pollinating variety, or lack of bee activity. Other causes of poor cropping can be reasons like the tree being too young to produce fruit, not growing healthily due to pests, disease, poor nutrition, lack of watering, or growing with too much vegetative growth from excessive nitrogen.
If the fruit on your fruit trees is very small, this is usually caused by overcropping, which can lead to biennial bearing (producing a massive crop every second year). Small fruit is common on dwarf peach and nectarine trees due to a high level of pollination on a small number of branches. Biennial bearing is most commonly seen on pear and plum trees. Increase fruit size by thinning fruit to a sensible crop load for the size of the tree. This is best done in early summer when the fruitlets are about the size of a 20c coin, reducing the number of fruit in a bunch so that the mature fruit will not touch its neighbours.
Small fruit, or premature fruit drop – when the fruit falls before ripening, can also be caused by poor nutrition and lack of water (or sporadic irrigation). Feed fruit trees with Tui NovaTec Premium fertiliser and mulch with Tui Mulch & Feed to assist with moisture retention. Water deeply and regularly, ideally with a hose left dribbling for an hour or so once a week. Water is very important over the hotter months as fruit forms.
FRUIT TREE MAINTENANCE
All fruit trees benefit from a regular feeding regime to provide the right nutrients for maximum tree health and top crops. Tui NovaTec Premium fertiliser is suitable for your fruit trees planted in the garden or in pots and
containers. Feed in spring and summer to provide your fruit trees a balanced and even spread of all essential nutrients for maximum fruiting and flowering.
To increase fruit production next season, sprinkle Tui Sulphate of Potash around the base of the tree in autumn. This provides a boost of potassium – the most important element for the development of flowers and fruit.
Summer pruning is recommended for keeping fruit trees shorter for easy picking. Simply clip the new growth back by half in December/January, then again in February/March. This pruning technique shocks the tree slightly which reduces growth.
Apply Tui Organic Seaweed Plant Tonic regularly to help reduce the shock and give trees an overall boost.