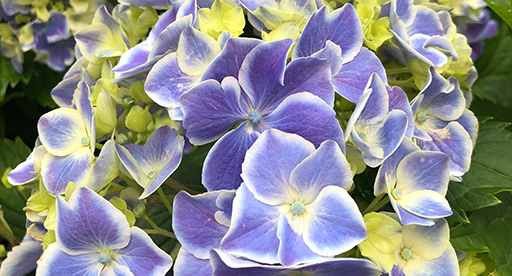 Hydrangeas are a hardy flower favourite that add colour, texture and vibrancy to the garden and provide a stunning show over summer.  Follow our tips to get the most from your hydrangeas this summer.
Hydrangeas like a well-worked, fertile soil with plenty of compost. They prefer a shady area of the garden but will cope with sun too. Hydrangeas are also great options for pots and containers. Plant smaller varieties or use a medium to large sized pot so that the roots have plenty of room. Hydrangeas are vigorous, quick to establish and will reward you with an array of flowers with wonderful shades of lime, rose, mauve or blue.
Watering
Intensely hot days can cause hydrangeas to wilt and go brown so they will benefit from regular watering throughout the summer. Water your hydrangeas in the morning to help prevent them wilting during the day. To help conserve soil moisture mulch around your hydrangeas with Tui Mulch & Feed.
Changing the colour of your blooms 
The colour of your hydrangeas can depend on your soil fertility and can easily change if the soil fertility changes. Flower colour can be altered by adding either Tui Lime, which will enhance red or pink flowers, or Tui Hydrangea Blue which will deepen blue tones. Changes should appear within a few weeks.
Feeding
Although hydrangeas don't need feeding in summer, regular applications of Tui Organic Seaweed Plant Tonic will give them a healthy boost and help them cope with the long, hot days.
Pruning
You can prune your hydrangeas in autumn or early spring/late winter. Around August/September the fat flower buds will start developing so it is easy to know where to prune to get maximum flowering. Vegetative buds (leaves) will be long and skinny. Our advice would be to deadhead in autumn and then in August/September prune back to a fat bud after the threat of frosts have passed, to maximise flowering. 
How to dry hydrangeas
Hydrangeas are perfect for picking and drying as they hold their colour well when dried. They're widely used for bouquets and are stunning on their own in a vase. Hydrangeas are best picked in late summer to autumn, once they have hardened off. Hang your picked hydrangeas upside down in a dark room (this will help their colour last longer). Make sure there is air circulating around them and the stems are straight. After 2-4 weeks you'll have beautiful dried hydrangeas to enjoy.