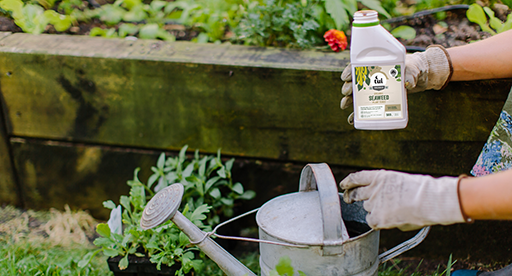 It can be tricky to keep your garden in tip-top shape when you are heading away over summer, so we have put together some tips to help!
Water
Keeping plants well watered is a big challenge over the summer months, especially when you are going away.
To make your watering efforts more efficient and reduce water use by up to 50% with Debco SaturAid granular soil wetting agent. This holds water in the soil and distributes it evenly and directly to the root zone. Apply SaturAid to all areas of your garden including indoor and outdoor pot plants, shrubs, garden beds and lawns.
If you're away for more than a few days ask a friendly neighbour to water the garden in exchange for some homegrown produce!
Mulch
Mulching will assist keeping roots moist and conserving moisture. Use Tui Pea Straw Mulch, a natural mulch made of 100% pea straw, or Tui Mulch & Feed, a two-in-one combination that provides the benefits of mulching and the healthy additions of blood and bone, mulching straw and sheep pellets.
Protect
Bugs will be out and about again over the summer months.
Check your crops for signs of pests and diseases which could ruin your carefully tended plants while you are away! If you see any sign of insect pests, first try blasting infestations off with the hose, or use warm soapy water. If this doesn't work, check at your local garden centre for a suitable spray.
Lay Tui Quash slug and snail control to stop slugs and snails from munching on your seedlings and plants.
Nourish
It is important to replenish nutrients for plentiful harvests over the summer, and to extend the growing season!
Tui Enrich controlled release fertilisers are a wonderful 'feed and forget' option - perfect if you are going away for a long period of time. They feed your plants as they require it, for up to six months.
Give plants an application of Tui Organic Seaweed Plant Tonic at least every month to make them thrive and help them cope with temperature fluctuation.
Take your garden on holiday with you! Create a salad garden box for fresh salad greens and herbs at your fingertips while you're at the bach or campground.