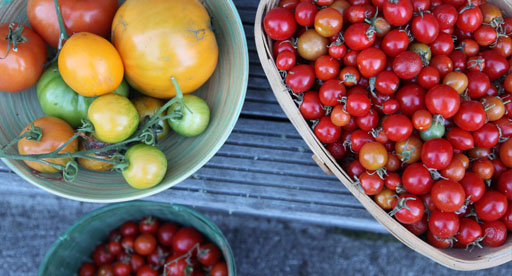 Spring is the perfect time to plant tomatoes for summer salads, sandwiches and snacking straight off the vine.
Tomato varieties vary in size, colour and flavour. Choose a variety based on your cooking and taste preferences. Discover our top picks to choose from this spring.
When should I plant
in
Jan
Feb
Mar
Apr
May
Jun
Jul
Aug
Sep
Oct
Nov
Dec
Harvest in

60-85

days
If you fancy delving into sauces, relishes and soups, choose varieties that have intense flavour and are heavy croppers. For those who enjoy eating tomatoes in salads and sandwiches go for the fleshy ones, which have less juice.
Big classics
Tried and true varieties that pack a punch and deliver in abundance.
Money Maker - a reliable tall growing variety and heavy producer of smooth, medium sized flavoursome tomato. Ideal for pickling and preserving.  
Beefsteak - a very popular and reliable tomato which produces large flavoursome tomatoes. Will need staking.
Russian Red - reliable in cooler climates, Russian Red is a hardy tomato producing heavy crops of good flavoured round fruit making it perfect for sauces, preserving and pickling. 
Mortgage Lifter - an old and proven variety that produces large sweet flavoured tomatoes.
Salads and sandwiches
Big, fleshy varieties, that are not too juicy.
Black paste - a dark skinned plum tomato, revered by chefs and foodies for its slicing ability.
Oxheart - this fleshy big beauty is packed with flavour and has very few seeds.
Grosse Lisse - a tall growing variety that produces medium to large fruit full of flavour.
Taupo - a robust plant that produces a high yield over a long period.
Small spaces
Crops for smaller spots and pots.
Patio Prize - perfect for small spaces including pots and containers. A compact plant the produces tasty slicing tomatoes.
Dynamo - a compact plant that produces plenty of bright red fruit.
Tumbling Tom – also a hanging basket tomato, this tomato seems to have it all, producing plenty of sugary sweet fruit.
Lower acid
Roma Acid Free - full of flavour, this is an early-mid season variety that produces dark, red oblong shaped fruit that is acid free. 
Golden Low Acid - a golden coloured low acid tomato option that produces large fruit with mild flavour.
SWEET & SMALL favourites
Sweet 100 - growing on a vigorous bushy plant, Sweet 100 produces an abundance of sweet and juicy cherry sized tomatoes perfect for salads and summer snacking.
Gold Nugget - a golden cherry tomato that produces delicious tomatoes both quickly and prolifically. Grows to 100cm. 
Black Cherry - A dark cherry tomato, producing an abundance of sweet rich flavoured fruit on a tall plant.
Tomaccio - the 'raisin' tomato this has an intense, sweet flavour.
SOMETHING A BIT DIFFERENT
Mix up shapes and colours for something different. 
Bloody Butcher - a heirloom variety of tomato produces medium sized, deep-red skinned flavoursome tomatoes that ripen quickly so this variety - ideal for areas with a shorter summer.
Green Sausage - the fat finger like fruits are lime green with a very sweet flavour.
Indigo Fireball - one of the most interestingly coloured tomatoes available, the delicious yellow fruit features indigo pigments that are high in antioxidants. 
Golden Pear Drop - a trailing tomato variety ideal for pots and containers, Golden Pear Drop is a high yielding tomato producing sweet pear-shaped, yellow fruit.
Gourmet Campari - one of the sweetest and most flavoursome tomatoes.
If you're looking for an early harvest Early Girl is your tomato – a prolific cropper that produces early maturing dark red fruit.