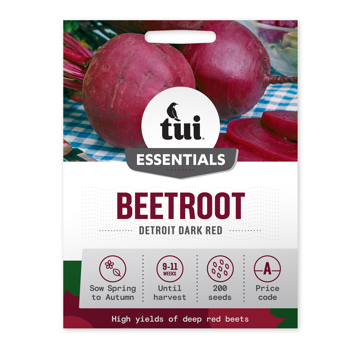 Tui Beetroot Seed - Detroit Dark Red
Beetroot is an easy, quintessential kiwi vegetable to grow, ideal for both first-time and experienced gardeners.
Tui Beetroot Seed - Detroit Dark Red offers high yields of deep red beets with sweet and tender roots.
Sow: Spring - Autumn
Germination: 7-14 days
Harvest: 9-11 weeks
Contains 200 seeds.

Benefits
Deep red globe shaped beets.
High yielding variety.
Sweet and tender roots.
Recyclable paper envelope.
Directions for use
Sowing direct
Before planting work the soil until fine and crumbly.
Dig in a layer of Tui Seed Raising Mix.
Sow seeds direct into garden bed 15mm deep and 2cm apart.
Thin out plants as they mature.
Keep well watered.
Tui Beetroot Seed - Detroit Dark Red reviews
Be the first to write a review