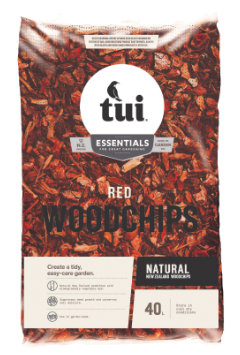 Tui Red Woodchips
Are you looking for the perfect finishing touch to create a tidy, well cared for look in your backyard? Tui Red Woodchips suppresses weed growth, conserves soil moisture and creates a uniform look throughout your garden to keep it looking its best.
Apply to your garden beds so you can spend less time weeding and more time enjoying your piece of paradise.
Benefits
Natural New Zealand woodchips with biodegradable vegetable dye.

Suppresses weed growth and conserves soil moisture.

Use in garden beds.
Directions for use
Prior to applying woodchips, prepare the garden by clearing weeds, fertilising, and watering plants thoroughly. Complete any garden edging before laying woodchips.

Place a layer of weed control matting or wet sheets of newspaper on to the soil surface and around the plants, right up to the garden edge.

Apply the woodchips to a depth of approximately 60mm, taking care to avoid leaving woodchips touching the trunk/stem of plants.
A top up of woodchips each year is recommended to keep your garden looking its best.
Tui Red Woodchips reviews
Be the first to write a review