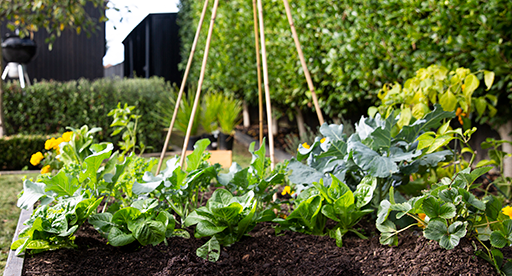 Autumn is a fantastic season in the garden. The air is crisp, with warm long days, perfect for the tasks that need doing following the heat of summer.
It's is a great time for sowing a new lawn, planting bulbs, trees and shrubs, and of course planting the vegetable garden for the months ahead.
Autumn to do list
Autumn is the perfect time for lawn TLC, and to sow a new lawn. Check out our 3 simple steps of lawn care.
Harvest seeds from last season's crops for use next season. Label them carefully before storing.
Plant up pots and containers with autumn potted colour.
Apply Tui Organic Seaweed Plant Tonic every 2-4 weeks to help prevent transplant shock, promote strong growth and keep your garden thriving.
In the vegetable garden
Replace the lost nutrients from those heavy growing seasons by adding in compost, blood and bone, and sheep pellets. This will provide a healthy new foundation for your autumn and winter crops.
Keep mounding up celery and leeks.
Harvest pumpkins and dry well before storing.
Main crop potatoes should be ready for lifting.
Autumn is an ideal time to plant broccoli, cauliflower, cabbage, beetroot, spinach and Chinese cabbages.
Plant lettuce early autumn and you can get a good harvest from most lettuce varieties.
Sow seeds for your winter crops like carrots, swedes, turnips and radish. A good seed raising mix that is light and free draining will ensure your seeds get the best possible start.
Autumn is a busy season for slugs and snails so protect your young vegetable seedlings with Tui Quash.
Aphids and whitefly will be about. Blast off with a hose or spray with warm soapy water.
If early frosts are a concern, protect seedlings with a cloche or growing tunnel.
In the fruit garden
Autumn is a busy time for the home orchardist as new season fruit trees make their way to the garden centre and existing trees are laden with fruit.
Fertilise citrus trees in early autumn with Tui Citrus Food, unless there is threat of frost.
Prepare new planting sites with compost and plant into garden mix.
Protect grape vines with bird netting.
In the flower garden
Autumn in the flower garden signals a time to change to new season's potted colour.
Pansies, violas, and polyanthus are more tolerant of the cooler weather.
Plant into Tui Flower Mix for best results and feed with Novatec.
It is the best time to plant bulbs for spring flowering, see our Bulb Growing Guide for more information.
Basic maintenance in the flower garden requires pruning back flowering plants that have finished for the season.
Support taller flowering plants like dahlias and sweet peas with frames or stakes.
Mulch your flower beds to suppress weeds and protect plants from the cooler months ahead.
When should I plant
in
Jan
Feb
Mar
Apr
May
Jun
Jul
Aug
Sep
Oct
Nov
Dec
Harvest in

60-120

Days